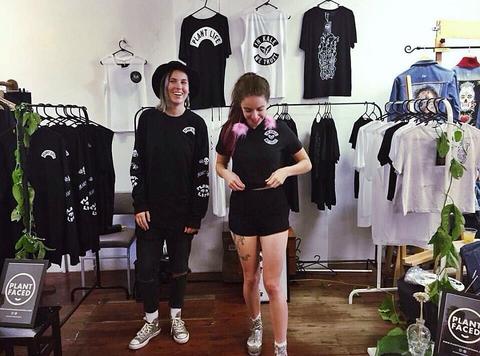 PLANT FACED is a new revolution in cruelty-free and eco-friendly fashion! If you're seeking out some new and on-trend pieces for your wardrobe this season, then look no further. This brand's edgy and sophisticated streetwear collection is something you need to be wearing! 
 Plant Faced Clothing has carefully crafted the best designs on all of their exclusive garments. They are completely ethnical in their clothing production and use plant-based or organic materials where possible. The Plant Faced label is independently owned and ensures there are fair working conditions for labourers across its supply chain. All of the unique slogans and patterns on Plant Faced's various t-shirts, hoodies, crop-tops and clothing accessories are imprinted with water-based ink that does not harm the environment.  Every item sold on the Plant-Based website is of course 100% Vegan and free of any animal products.  
Not only does Plant Faced use the highest quality fabrics in their garments, but they are also soft and entirely comfortable to wear throughout the day. Whether you're strutting your stuff on the streets, turning up to your classes, or meeting your friends for a bite to eat, you can be sure you'll turn heads and look trendy in this Plant Face's stylish exclusives. Each garment has a timeless look and stays in great condition even after a few washes, so you can be sure you're getting your money's worth and contributing to a great environmental cause at the same time!  
All of Plant Faced's items are delivered in eco-friendly and recyclable packaging to ensure 0% environmental waste. Each order is also packaged with some free surprises, including 'Plant' themed stickers and post-cards! Feel like ordering yourself that new sweatshirt or tee without the sweatshop label? Head over to PlantFacedClothing.com right now to order your autumnal wear and keep the good vibes spreading!  
By Manisha Bhanot