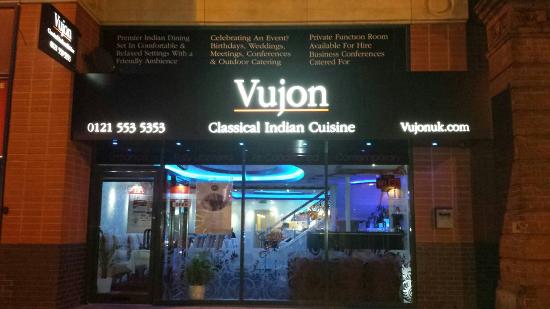 I felt that 2016 had passed by so swiftly that it was the quickest in recent memory.  During 2016 I had only started doing a sense check on my new year resolutions and the invites of year end parties had started to swarm in.
After a brief cold spell it was already February and it seemed that 2017 was following in the same speedy flow as 2016.
The town of West Bromwich has recently seen a surge in investment leading to developments in business and housing.  In this bustling town stands an Indian restaurant named Vujon.  The deceptively spacious 100 seater restaurant has been open for nearly four years.  Set over two floors the downstairs is used predominately as the restaurant and the upstairs doubles up in cases of parties and events.  As I walked in I was amazed by the custom paintings on all walls and ceilings. Each table adorned by ivory and white table cloths with carefully placed cutlery and glasses, almost symmetrical, gave it an almost romantic feel.
A poster proudly hung on an internal window advertising that the chef had been the recipient of Chef of the year 2014 at the prestigious Curry Life awards.
It was pleasant to see a number of dishes catering for the vegetarian palate.  On this occasion however I would opt for my fish and chicken cravings.
For starters I chose Salmon Tikka.  The salmon was grilled in a tandoori accompanied by a salad.  The portion size was reasonable.  I prefer the starter to be just that, not overly filling but enough to satisfy until the main course arrived.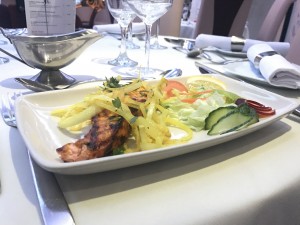 The waitress promptly removed my plate and asked if I was ready for my main course.
Upon giving my thumbs up I was advised that it would arrive shortly.  I sat and watched as the waitress juggled taking orders and serve customers as the delivery man played his role.
The music selection was a little Marmite in which I liked some of the tracks and not the others whilst waiting. I even found myself humming embarrassingly but soon stopped myself after stares from across the room.
For main I chose Chicken Jalfrezi with a side dish of Chilli Chana & Matter Paneer.  I always seem to opt for Naan bread when I eat out instead of my usual boiled rice.
The chicken pieces were made using breast pieces decorated by capsicum and green chillies. Upon asking the waitress she advised that the chicken had been marinated with spices prepared by the chef.  She also advises that ingredients are prepared from source to pan with no reheating. The distinct flavours could be tasted as I dipped in with my Naan bread.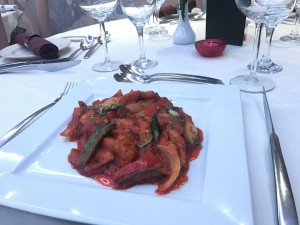 The side dish was also of a reasonable portion.  I could sense that care was taken when preparing the dish and that clearly showed.  This did not disappoint as the Paneer provided a welcome distraction from the chicken.  This dish was succulent itself that I could have opted for this as a main dish itself.
I decided not to indulge in a dessert but instead drank a coffee to complete the meal despite the temptation.  The waistline has been spared for another day and the 'most recent' resolution lives on.
Vujon is open 7 days a week from 5:00pm to 11:30pm Sun – Thursday and 5:00pm to 1:00am Fri Saturday.  Unit3b, Astle Park, West Bromwich, B70 8EN (entrance on high street) www.vujonuk.com