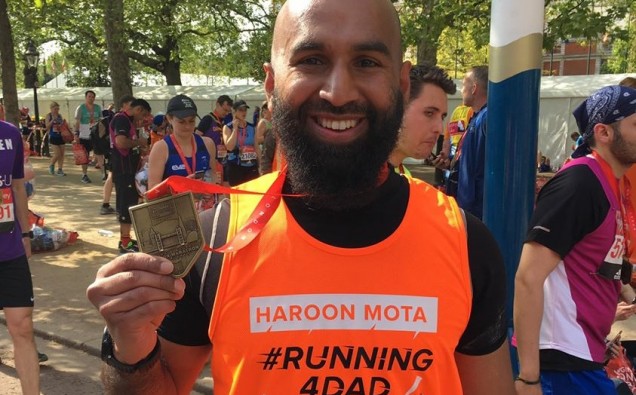 Haroon Mota, Fundraising Manager for humanitarian charity Penny Appeal undertook his biggest challenge to date, running four full marathons in the first three weeks of April.
He was running for Penny Appeal, a global, humanitarian charity working to find water and food solutions, orphan care and medical aid in disaster and conflict areas.
Haroon set out In hope of collecting a stealthy sum of £20,000, to build a solar water power centre which will provide water and electricity to poor and needy people living in Senegal.
The 31-year-old first ran the London Marathon back in 2012. After what he described as a "painful and exhausting experience" and vowed never to do it again.
But after his father was suddenly killed in a car crash, Haroon vowed to honour his dad, who was always striving to make life better for others, by raising the considerable sum in his name.
"He is my motivation and I'm determined to make this challenge a success," Haroon said.
His fundraising journey began with a rocky start in Manchester, where his first marathon took and unsuspected turn for the worst.
Mota explained: "Something went wrong about half way, I got cramp in my calves and mentally that really affected me. It wouldn't go away, it appeared in my hamstrings and in my quads too.
"That entire last half really dragged on and cramps are so painful. I just had to put it down as a bad day in the office."
With little less than a week to recover from his debilitating cramp, Mr Mota flew to Paris, to take part in the fashion capital's high profile marathon.
"It was amazing to see the Eiffel Tower and starting at Champs Elysees and with 60,000 people running, it was the biggest marathon I've ever taken part in," he adds.
But it was not without difficulties. Despite the rustic rural Parisian backdrop and the high temperatures, the long and winding roads made for a trying journey.
Haroon explains: "Through the latter part of the marathon, we were running through forests in the rural parts of France. It was beautiful but it was almost like it was never ending with really lengthy roads. Sometimes, what you need is a bit of variation like a turn or a bend. It makes you wonder…how long is this road?"
With two marathons down, Haroon made his way to Boston in Lincolnshire for his third marathon. As the smallest amongst the four marathon, Mota was worried that morale would wane.
He said: "Boston was a smaller race with fewer runners; I anticipated that there would be fewer spectators so I knew it was going to be quite a lonely race. During the marathon spectators cheer and call you and that's real encouragement."
Armed with jelly babies and the support of his brother, he made it through with energy to spare.
Haroon's marathon mission came to an end at the renowned London Marathon, which he had completed several years prior with the support of his loving father.
"I knew it was going to be a struggle because the accumulation of fatigue was there and when I began running I could feel it."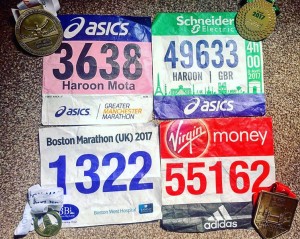 Despite his rigorous training and arduous travelling, Mota never lost sight of his end goal of raising £20,000 for his worthy cause. By the third marathon, his Just Giving page had accumulated over £16,000.
"During that week, I was really optimistic that the £4,000 was going to come from somewhere. At the same time, I was thinking 'that's a lot of money to collect over the weekend'," he adds.
On the night of the Marathon, the runner was just over £700 short, but a generous donation from a friend ensured that he completed his target and raised the entire sum.
"I'd like to thank every supporter who helped me along my journey and now that the money is in, we begin work on the project. It will be amazing to get out there and see the power centre in action. I think when I see the money and miles come together, it will truly hit home then."
You can still donate towards Haroon's cause. Visit www.justgiving.com/MarathonMota to support.
Haroon hopes his efforts will encourage & inspire others to also get fit & support good causes: "There are so many ways of getting involved. I'm always organising Mountain climbs, run events, sky dives & much more. Reach me at haroon.mota@pennyappeal.org or connect on social media (Twitter: @Haroon_Mota | Fb: Haroon Mota | Insta: HaroonMota | SC: harrymota00)."