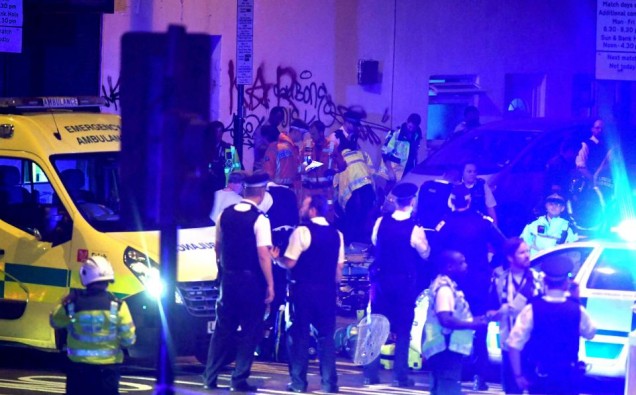 Police were called to Finsbury Park after a white van driver was said to have ploughed into worshippers leaving the mosque after the night prayer.
Authorities confirm that one person has been killed and 10 injured in the attack that took place early Monday Morning outside the London Mosque.
A 48-year-old suspect has been detained following the attack, after reportedly mowing down worshippers leaving the special Ramadan prayers, shouting "I'm going to kill all Muslims.
Deputy Assistant Commissioner Neil Basu, senior national coordinator for counter terrorism, said: "From 00:21hrs this morning police received a number calls to Seven Sisters Road following a van having collided with pedestrians.
"Officers were in the immediate vicinity as the attack unfolded and responded instantly. Additional officers arrived within 10 minutes. One man was pronounced dead at the scene. Eight others are in hospital and two more were treated at the scene.
"All the victims were from the Muslim community."
  An eye witness, who chose to remain unidentified, said: "I managed to get the driver of the van when he came out of his van. He wanted to run away and was saying, 'I want to kill Muslims',"
"So he came back to the main road and I managed to get him to the ground and me and some other guys managed to hold him until the police arrived, for about 20 minutes I think, until the police arrived."
Online videos show the chaos erupting as people gathered to help those injured.
One man was seen giving CPR to a victim in the street while another man's head injury was treated with a makeshift dressing.
Police have praised the community effort to detain the suspected terrorist, Mr Basu said: "I would like to praise police officers who immediately gave life saving treatment at the scene, but also members of the public who assisted before and after the incident."
"I would like to thank those people who helped police in detaining the man and worked with officers to calmly and quickly get him into our custody."
A leader of the Muslim Council of Britain has called for extra security at mosques in the wake of the attack.
The group's general secretary, Harun Khan, said: "During the night, ordinary British citizens were set upon while they were going about their lives, completing their night worship."
Theresa may descent upon the mosque today, to meet with religious leaders, along with Jeremy Corbyn and Sadiq Khan.
The incident has been described by the Government as a terrorist attack, and many public figures have spoken out condemning the atrocity.