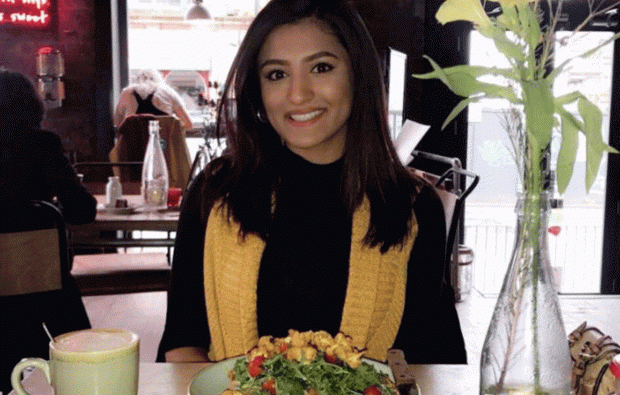 The aspiring model was left with life-altering scars after she and a cousin were targeted in a vicious hate crime in London.
Acid attack victim, Resham Khan, is set to receive a staggering £30,000 in donations after a fundraising campaign, that was set up to help her and cousin, Jameel Muhktar, surpassed its expected target.
Khan posted a message on Facebook and said, "It's warmed my heart seeing so many people come together to support me and my family. Words can't describe how you have all made me feel during such a low point in my life."
Khan and her 37-year-old cousin Jameel were in London to celebrate her 21st birthday.
They had stopped at traffic lights when a corrosive substance was flung at them through their car window in an unprovoked attack.
Khan had to undergo skin graft while Muhktar was put into an induced coma, both were left with "life changing" burns.
Khan further wrote on Twitter: "The pain was excruciating. I was struggling to close the window. My cousin struggled to get us away. I saw my clothes burn in front of me. He put his foot down as we were coming onto a dual carriage way but the pain took over and we crashed."
"We stripped off in the middle of the road, running around screaming and begging for water. We did this for 45 minutes. No ambulance came."
A passerby then drove them to the hospital and they were transferred to a specialist burns unit.
Resham's relatives spoke out about the incident saying that they fear the act was motivated by Islamophobia.
Police are hunting John Tomlin, 24, over the "horrendous" attack and the public have been warned not to approach him.
Detective Superintendent Neil Matthews said: "I would like to reassure the public that our continued focus remains on finding the person responsible for this horrendous act of violence.
"We will continue to progress these enquiries as quickly as humanely possible and fully understand concerns that they should be brought to justice quickly."
He continued: "The Met recognises the impact hate crime has on communities and encourage anyone affected by these incidents to report them to police or through community reporting channels.
"This was a horrendous act of violence with the victims suffering burn-related injuries which will require long-term treatment."
Jameel Muhktar, spoke of his harrowing experience and the limited mainstream media coverage that has followed.
In an emotional interview, he told Channel 4 News: "I honestly feel that if this was a white person that got attacked by an Asian person, he'd be caught within 24 hours.
"It would be all over the news; there would be a national man hunt. It's definitely a hate crime; I believe it's something to do with Islamophobia."
Khan, who is now making peace with her recovery, has been commended on her positivity and sense of humour through-out.
The 21-year-old is narrating her recuperation process from her hospital bed for followers on social media.
She recently shared a picture of her now-ruined make-up palette that was in her handbag at the time, saying: "My beautiful contour palette destroyed. It's not like I'll be wearing make-up anytime soon."
The business student said she had plans to launch a "little business" and was due to start a new job  "working with young people on a social inclusion residential program".
However, she stated that she would no longer be able to carry out the role because of injuries to her leg.
Resham said on Facebook, she did not want the incident to "fuel a division among people".
"From a large majority, there will always be a sick and twisted minority. Stop tearing each other down, stop arguing religion and politics. Make peace with each other and the world.
"Letting this man or the events of the past fill you up with hate will only darken the soul," he said.
The inspiring young woman is positive on her journey to recuperation, saying:  "Whether it all your prayers or positivity for me to recover, it's working."
She added: "I am hoping to concentrate on getting better and coming to terms with the recent events, so I can prepare myself for the next stages of my life.
"I want to make sure I'm fit and ready to complete my degree and prepare myself for the career I've been planning for."
"I'll get myself back into work, I'll look good, I'll graduate. And things will get better,"
The Metropolitan Police revealed that there has been a sharp rise in the number of reported acid attacks in London, a rising trend at a time of increased Islamophobia.
A steady stream of alarming reports has emerged on social media of victims targeted by attackers attempting to chemically burn them.
Several of the attacks have been covered as isolated events, but authorities have yet to release any statement on what appears to be a disturbing trend.
The attacks have prompted outrage among British Muslims, with messages warning individuals to be vigilant while out in public, with several advising potential victims on what action to take in the case of an acid attack.
More than 250,000 people have signed a petition urging the government to impose tougher laws on the purchasing of acid.
"Acid attacks have become too common, the Home Office needs to do something to bring it under control," the petition reads. "It is a disgusting criminal act."