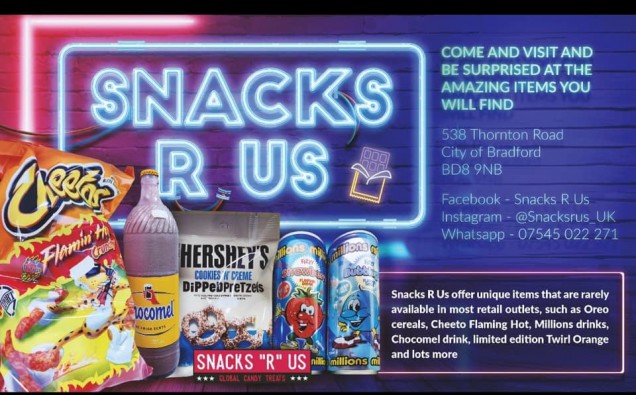 Entrepreneurial 15-year-old Ibrahim Ali has opened his very own sweet shop in Bradford.
The young businessman began his business career as a seller on eBay before his parents handed him the keys to the family's empty shop unit.
The GSCE student who already has connections in the sweet-making industry is selling popular sweet treats and fun cereals from countries like China and America. He even tracked down the Cadbury's rare orange Twirls.
However, it is difficult to balance his school study's and running his business, which is called, Snacks 'R' Us in Girlington – open seven days a week.
Ibrahim works on the weekends after finishing his maths tuition and has employed the help of his auntie Zatoon and friends for weekday sales.
The teenager told the Telegraph & Argus: "I got inspired, I was on Instagram, and I'd seen a shop in Birmingham which is a similar city to ours. I wanted to open up my own to see if I could do it."
"I was happy my mum and dad wanted to support me, and they really helped me."
The Gen Z business owner is using social media to promote his shop, mainly using Snapchat to build a presence.
Explaining some of the products on offer, he said: "American Cheetos; Chocomel from Holland – that's quite popular; Sour Patch Kids, they're quite popular."
"It's quite successful because we are getting lots of customers in."
"The Instagram hasn't kicked off but the Snapchat, we've got a few on there."
"He's always been into selling bits and bobs on eBay for a couple of years, but this time he decided to import some sweets in and now he's got his own shop," Mr Ali explained.
"He knows where to look and how to get the goods. That's what most people struggle with. Whatever the thing is, he finds somewhere to get it from.
"He's motivated himself. He's not looking at the downfalls; he's looking at the positives."
Even though he's "confident" in running his shop, he still battles shyness in his everyday life.
Mr Ali added: "He's not a person who talks a lot, but he's self-confidence in what he wants to do."
"He's got some funding from me and his Mum. His grandmother's helped him a little bit, and we had family premises and he said he wanted to take it on."
However, Ibrahim is currently aiming for top grades in Maths, English, Science and BTEC Business.