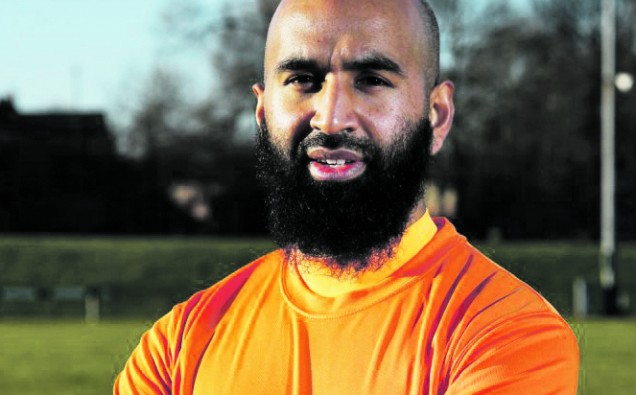 Haroon Mota, Fundraising Manager for humanitarian charity Penny Appeal is preparing to undertake his biggest and toughest challenge, running four full marathons in the first three weeks of April.
He is hoping to raise £20,000, towards a solar panel which will provide water and electricity to people living in Senegal. Haroon will be running the London, Paris, Manchester and Boston Marathons.
Thirty-one-year-old Haroon is affectionately known as 'Marathon Man', and decided to take up running again to honour the memory of his late father. He adopted the slogan, #Running4Dad and hopes that people will be inspired by his stamina and sponsor him.
Haroon has run over thirty marathons since taking up running just a few years ago, and he's always up for a challenge. Haroon has climbed to Mount Everest Basecamp, trekked the Inca Trail in Peru, completed the Three Peaks Challenge, Skydived and Bungee jumped, raising hundreds of thousands of pounds for various causes.
Through these sporting activities he has championed humanitarian causes, whilst hoping to provide positive stories about Muslims and their contribution to such causes, a subject he feels strongly about.  He says,
Asian World get the story behind Haroon's Marathon journey.
Have you ever done anything like this before?
Back in 2013 I ran 4 half marathons on consecutive weeks, and back then, that was the hardest challenge I had done. Then the following year I ran five half marathons on consecutive weekends.
I've done lots of half marathons but not many full marathons because it can take up to 4 months to train for one full marathon. This time round I'm going for four full marathons!
How did you get into running?
I was never a fan of running, we never did athletics at school, it was always something I found quite boring. I was quite naturally athletic, I was always playing football and I was heavily into martial arts, so keeping fit was always something that was in me but I found running really boring. With my martial arts, I would run about two to three miles but never any distance running.
When I took up a job at UCL Hospital in London, I used to commute from Coventry to London every day. I used to find it so strange, I would come out of Euston station in the morning and there were so many people running on the streets in Central London, I found it quite bizarre because you don't see that here in Birmingham.
Whether it was cold or raining it didn't matter, they were always out. I would always think what are these people on?
Later that year Teenage Cancer Trust were recruiting for the London Marathon, and I thought 'I've never run a marathon before, let's give it a go.' It was 26 miles, and it was just supposed to be this one-off thing.
I was always into fundraising, so I thought I'd give it a go. I completed the marathon in just over 5 hours and it was so difficult. It was so painful I don't even remember the last seven miles, after about mile 18 onwards I had so much cramp and exhaustion I don't remember how I got through.
What made you carry on during that marathon?
You must get to the finish line, otherwise you won't get your medal. I'm generally quite a competitive person, so giving up wasn't an option.
Also I had raised quite a bit of money so I had to finish to ensure I fulfilled my pledge of taking on the challenge, so I had to complete it.
For that marathon, I was focussing on the young people I was supporting and cancer sufferers that had passed away that year.
I remember that day, my family were coming up from Coventry, and I told them to wait at mile 18 because that were the Teenage Cancer Trust stall would be. I was so exhausted by the time I got to mile 18 and I was looking for my family, for a boost and they just weren't there. It demotivated me so much, and the remaining six or seven miles were the most difficult.
Then at the final mile, mile 26, out of nowhere I saw my dad. Now when I think about this moment its really emotional for me. I saw my dad, and a huge smile, and it gave me so much of a boost, it pushed me through the final mile.
A year later we lost him in a car accident.
What inspired you to continue running after such a difficult experience?
During that first marathon, I decided I would never do this again, but the following year an opportunity came about. Islamic Relief said to me 'Haroon, we got a place in the London Marathon, you did it last year, would you like to do it again?' and my initial reaction was 'NO! – I don't.'
They approached me in February when the marathon was in April, only 2 months when you need at least 4 months training, but they asked me again and I felt a bit guilty. They told me what the cause was water works in Africa.
I remembered the atmosphere at the London marathon, which is incredible for the whole 26 miles. You have random people there who come just to support you. People from different charities and in different costumes and all with their individual stories, and I remembered that more than the struggle.
So I started training in 2013, but we got the shocking news that my father was involved in a car accident, and I just forgot about marathon training for that time, but after I pulled myself together and thought 'I've got a marathon to run' and I'm sure my dad would have wanted me to continue. I dedicated that marathon to my father, and from there I carried on running marathons.
They call me the 'Marathon Man' and the 'Mota-vator' I like to motivate people, when I run marathons I make sure that I don't run alone, I always like to take people with me.
Are you seeing more diversity in marathons now?
Ever year there has been more involvement. Last year I had 75 people join me on the Coventry Marathon, half of which were Asian women. It really helps me and I really enjoy getting others involved and helping them to achieve something huge.
It's no surprise that the south-Asian community is dealing with the most health issues. Our diets are poor, physical activity levels are low and diabetes is so common. Something does need to be done about that. It's great when you can combine charity with keeping fit, I really enjoy it.
Your father was a big inspiration for you, and now you're running in his name. can you tell us a little bit about what happened?
My father was only 57 when he passed away. He was a very good man and renowned within our community in Coventry, and over 1,000 attended his funeral prayers. He was a teacher of Qur'an for over 20 years.
One day, my mom called me at my home to tell me that my dad hadn't reached work, as he would routinely call my mom to say he had reached.
I remember saying 'mom don't worry, he's phone battery is probably dead or he probably stopped off somewhere.' Then I remember the house phone ringing, and my mother was told that my father had been involved in a car crash.
We rushed to the hospital, and were waiting a good few hours before he arrived. We were told that it was a high-speed accident on the duel carriage way. It was a two-way collision with fire engines involved and that's why there were complications.
We manged to see him and he had some severe injuries, but we thought he was recovering. He was speaking to us, he was fully conscious, he had broken bones in every part of his body, except he had no facial injuries.
He was more conscious about missing his daily prayers, which let me know he was ok, but his internal injuries were so bad that, after his second lot of surgery, he went into a coma and didn't wake up after that. He passed away 10 days after being admitted to hospital.
It was a very painful experience for our whole family, thinking he's recovering to losing him. I remember leaving the hospital thinking 'what the hell just happened.'
It's still very raw, but my dad was a noble man and very strong in his faith, and I want to carry on his legacy and help people in need.
My goal for running these four marathons is to build this solar water well and power centre for his name, where thousands of people will benefit from safe clean drinking water, and my dad would have been so proud of this whole project built in his memory and the reward that it will give him, and it helps me deal with my loss.
What are you hoping to raise?
I've managed to raise £2,000 so far, but I'm hoping by the time I've finished that fourth marathon in London and completed the 105th mile, I'll have £20,000 raised so I can get out there to Senegal in Africa and see this project completed.
I want to show my donors who have reached into their pockets, this is what you've helped complete!
Supporters can donate here or give by texting "MOTA60 £" TO 70070.