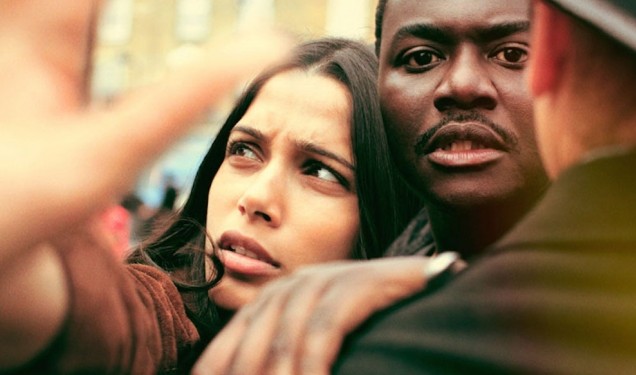 Freida Pinto is entrancing audiences on the small screen in pacey political Sky Atlantic drama Guerrilla. The plot follows politically active lovers Jas (Freida Pinto) and Marcus (Babou Ceesay) and their friends as the political becomes personal. Based in 1970s London, the group of activists go head-to-head with a racist police force who are dedicated to crushing them. Guerrilla explores the nature of a relationship under pressure and poses the question: what if the original Black Power movement in London had used violence? The show also features Rory Kinnear, Daniel Mays and Zawe Ashton, with Idris Elba featuring and executive producing.
Asian World delves a little deeper into Freida's feelings about the show.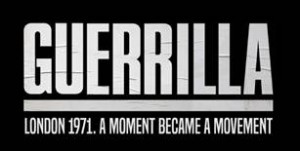 Who are you playing in Guerrilla?
I play Jas Mitra and with Marcus Hill, her partner, she is part of the revolutionary couple that we're following in Guerrilla. She's like a gentle ticking time bomb and it  was a fantastic exploration of the unpredictability this character brings to the central plot line. She has a lot of passion and drive but she's also naive at times and the consequences of all her actions and her decisions greatly move the flow of the story.  She is definitely someone who needs  to stand up for what she believes in and she's someone who needs to do things, as opposed to just talking about it.
What is her background?
We find out in later episodes that she escaped India with her mother because of a threat to her and her mother's life. It comes through that her father is in a prison in India for being part of the popular and infamous communist group in West Bengal. So she and her mother escape India and are looking for safety and a better life in London.
But London in the 70s (and particularly with the 1971 Immigration Act) is just a different kind of
struggle, with the threat of being picked out again, and the fear of having to leave again. Jas is just as much as Marcus and the rest of the Black Power struggle trying to fight for her identity and rights as a legal immigrant who deserves equal rights.
What is her situation when we first come across her?
She's working as a nurse. A lot of the immigrant population did actually take up jobs as doctors, bus drivers and nurses very often below what their qualifications merited.
Her relationship with Marcus has plateaued a bit even though there is an undeniable sense of love and respect they feel for each other. We do come into her life when she's first peaked into a sense of frustration and weariness at not being able to do more. The kind of frustration that can make you spiral down even further or motivate you to take some drastic action to gain a sense of purpose again. Either way,all decisions have consequences and Jas's decisions are certainly more explosive and almost unpredictable.
What is it that flips the switch in her and leads her to take action?
A couple of different things. We see that her friend is deliberately targeted and brutally killed by the Black Power Desk at a peaceful protest rally. That definitely ignites the already existing fire in her to not be silent about it anymore. She feels she needs to be doing something more than just protesting at a rally, something more radical to get people's attention. There's also the influence of Dhari in her life. In a way, he's an idol, a leader and a mascot that her radicalised idea needs. The third factor and the most important one would be her own back story; her relationship with her father and his ideologies, what he stood for in the Communist Party in India and his fight against the oppression faced by the working classes in communist West Bengal.
What is her connection with Kent Fue?
She and Kent have history. It's a past relationship that was a very significant one. He certainly
added a lot of value in her life when she first moved to England and you do see that even though they are not together anymore there is a part of her that still loves him, and he loves her too.
But their core values differed and that's what made them grow apart. Idris really added so much more to Kent than I expected, which made playing out our "love story with a history" so much easier as we really didn't have the time to film and play out a back story.
And Marcus?
Marcus is Jas's current lover and someone she has been with for three-or-so years now. They are at a very interesting juncture in their lives and their relationship where they're trying to find a purpose more than just being romantic partners and lovers. They're trying to find what
they really stand for and if they are really up for each other.
Do you think there are any parallels between the show and events today?
I'm really excited that I can be part of a series that has been so prophetic in nature. It is set in the 70s and it is talking about a factual, political part of history. It asks "what if" the response to the 1971 Immigration Act had been radicalised but it's also very relevant today. The things that we're talking about in the series are things that we're hearing about right now; it reflects the angst and the passion that people are feeling. Whether it's the recent women's march, whether it's protesting against the immigration ban in America, or whether it's people finally waking up to what Brexit really means… I think it's all of that and that's why this show is so important.
With a great writer and creator like John Ridley it is a given that none of these events will be trivialised or commercialised and the characters will feel real, almost scarily real, even though the nature of the series is fact meets fiction. What I'm most fascinated by in Guerrilla is the delicate and tender exploration of the relationship between Jas and Marcus under pressure. When we talk about revolutions and protests it's easy to look at it as a whole and forget what becomes of the lives of the people embroiled in the process of starting a revolution. Like any major decision in a partnership or a relationship – a marriage, a break-up, moving in with your lover, starting a family – they all have consequences and it's only then you truly understand how much of that relationship can really survive the pressure that it comes under, how much you are really up for each other.
Is there potential for another series?
I know what happens in episode six and as an audience member I would want a second series! Episode six is at once so volatile and so tender and interestingly fragile that it would be fascinating to know what happens to the characters from then on.