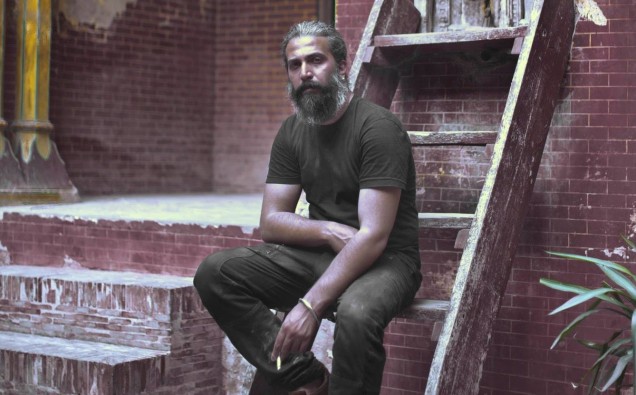 Abdullah Haris is one of the most sought-after, and accidental, photographers in Pakistan who has turned the fashion photography industry on its head with his abstract conceptual style of shooting bridal fashion as well as the rising stars of Pakistan. Hailing from Karachi, one of the most dangerous cities in the world crippled with terrorism and drug crimes, his work offers a gritty visualisation for designers looking to break the rules of the fashion industry. His fashion shoots portray women in a less traditional manner and he directs music videos where women take on reverse gender roles. Nominated again this year for 'Best Fashion Photographer', he has previously won the award at the Lux Style Awards 2016, which is considered to be the most prestigious entertainment awards in Pakistan. In a country where liberals are increasingly vilified and the arts are underfunded, Abdullah's success shows that the creative arts are firmly surviving despite the destabilisation Pakistan faces constantly.
1) Did you always want to go into fashion photography?
No, I actually started off as a chartered accountant, but I wasn't into studying at all. I realised I love making music, writing and taking pictures, so how do I experiment with all these things in one place? The moment I realised that I'm an artist, this is who I am, I got up and left.
I ended up at Karachi School of Art where the first academic year was already 9 months in, but I still got an admission. But my father received a call that I had not been attending classes. I had instead made friends with a cobbler on the streets near my house and started working with him polishing shoes. Eventually I got a job as a floor manager at a TV channel, my task was to clean the set, then I got promoted to look after the celebrity guests in the studio and then to redecorate the shows. But I was so passionate to shoot that I wouldn't waste my time, I'd do my daily tasks and then shadow every editor and producer at the channel to see how they would produce and edit.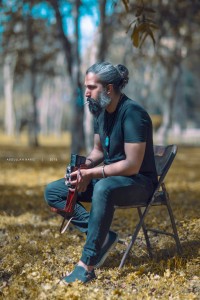 2) So you started picking up technical skills through practical work instead of enrolling onto another course?
I just wanted to learn for my self-growth, this was my last chance. Ironically when the economic recession started I was the first one to get fired. For six months I was broke, I was doing odd jobs until I landed a job with a music channel as a producer. When I was being interviewed I pitched a documentary to the channel that I'd make about Pakistani musicians who'd tell their story and what they've been through themselves. My idea was to spend a few days shooting with the musicians with the intention that they might see through me and offer me a music video. I shot the documentary and thankfully I got my first music video offer from Pakistani pop star Hadiqa Kiani. I was 24 years old then and I thought 'wow, prayers do work'.
At that point, Ali Zafar also gave me the job to do his music video for his song Jee Doondtha Hai which would also go out to India because he was signed with Yash Raj Films. But the sad part is just when you think you've made it, I had no other calls for work from anyone. I was broke for the longest time after that, to the extent I'd go to Lahore to look for work and I almost spent 4 months sleeping on the streets there. That certain period of my life was the most difficult, my career, finances and personal life were a chaotic mess, I felt like putting the world on fire.
3) What made you still want to pursue a career in the arts despite the obstacles?
I've always been fascinated with how God and nature works in mysterious ways. One minute I'm doing chartered accountancy the next minute I'm in art school and then bunking from that, and the next minute I'm in Lahore hoping that I get a music video. Then I'm making music videos for two big musicians, I had my first ever biggest pay check in life, and then back to reality being on the streets. That was a reality check for me; don't fly too high just relax.
When I was on the streets I realised we all need to find an escape for the pain we go through, so art, videos, pictures became an escape for me. A lot of my work is a translation of what I imagine or what I have been through myself. That's the beautiful part, when an artist is translating their own experiences and stories, and the audiences applaud or criticise it not knowing someone has lived this life.

4) From working in TV and music videos, how did you enter fashion photography?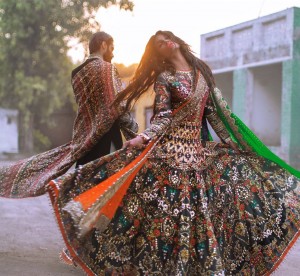 When I was broke again, the two musicians – Hadiqa Kiani and Ali Zafar – whose music videos I'd made, they were the two people again who asked me to do a portrait session for them. Later, out of nowhere I got a call from Ali Xeeshan (one of Pakistan's premier fashion designers) saying that he loved the way I take abstract photos and he asked if I could do a fashion shoot for his collection. That's how I entered fashion, all thanks to the two artists who helped my exposure.
I was then given a shoot to do by Depilex, a beauty institute in Lahore, I created and edited all the images inside a Mosque with a large scarf on my head so other people couldn't see what I was doing. What I was doing could probably have got me killed. I gave the client the results the very same day, they were shocked with how quick I was. The minute I had the cash in my hand I thought there is hope I can still make it maybe. Since then gradually I started getting calls for photography and now everyone considers me a photographer but for me it's just my ideas and not so much about camera readings.
5) You received exposure through other artists, do you think that plays a huge a role in a country like Pakistan where the arts don't receive as much funding and resources?
That makes a world of difference in the whole world because every artist has a responsibility of giving other artists a break. When you have that power with you there's no point taking it to the grave with you, you might as well give it away so that someone else can live their dreams and then they'll always be thankful to you. That's how I ended up working in the fashion industry. When I won the Lux Style Award for Best Fashion Photographer in 2016 I only recalled Hadiqa Kiani and Ali Zafar's support, I owe them everything.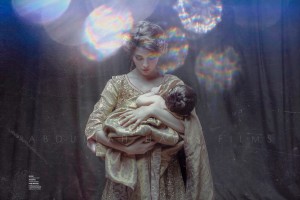 6) Since you never had a career outlined in fashion photography, how have you been able to shoot for most of the biggest fashion designers in Pakistan?
The only difference between me and other photographers here is that they shoot with measurements, I shoot with my heart. They follow the lights and what the client is telling them to do, I just do my thing. I'm glad that clients know me enough now that they're always asking me for ideas rather than telling me what they want. Since the day I started I had this reputation of being someone who might not listen to what you want so you might want to rethink before you approach him. But I'm trying to train myself to be more flexible now, luckily I have the privilege where brands are happy for me to conceptualise their campaigns.
7) Much of the Pakistani fashion industry reiterates certain Eurocentic beauty standards with models in ad campaigns often being light-skinned. What role do you think photographers play in challenging beauty norms?
Most of the magazines are just selling faces this is the nature of the business of fashion here. For one of my shoots it became difficult to actually find dark-toned models. Since the Pakistani audience is used to seeing fair complexions and being sold racist beauty products that make your skin whiter and whiter, the masses couldn't accept that campaign much as we saw in the way people responded to it.
8) In 2016 you shot a fashion video and photography campaign called Khamoshi ('Silence') which portrayed brides silenced and forced into marriage, ie padlock in their mouth. What motivated you to launch this campaign with such a strong societal message at a fashion show?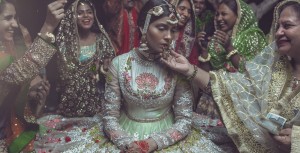 I thought it was a good idea to project women's empowerment in a bridal fashion shoot that was going to be revealed specifically at a bridal fashion show. In rural Pakistan a lot of younger girls get married to older men by force, it's estimated that 42% of girls are married before their 18th birthday and 8% of adolescent married girls become mothers between the ages 15-19. All the fashion fraternity at L'oreal Paris Bridal Fashion Week 2016 were expecting something else, for me it was a chance to highlight something different with Ali Xeeshan, the designer of the Khamoshi collection.
9) A lot of your bridal shoots have an unusual melancholic mood to them, what has inspired that juxtaposition?
My inspiration comes from so much that has happened and is happening around me. My conceptualisation is a personal translation of what I as a man, as an artist, have fallen in love with or have appreciated – it's opened a whole new perspective visually and emotionally for me. One bridal campaign I shot with the model holding a baby, the idea behind that was that from what I read, spiritually when a woman falls in love she can feel the children in her heart, so I translated that in a bridal shoot.
10) What sort of assistance do you have for when you're shooting a fashion campaign?
The only two people I have on my team after working by myself for 7 years is a manager and production assistant who help me with all the physical labour, and setting up equipment but otherwise when it comes to conceptualising I do everything myself including post-process. It's extremely exhausting, and can be lonely in the dock sometimes. But I think it adds to the fire, this constant chasing and escape I'm looking for, it keeps the fire burning.
11) In 10 years' time, what do you want to be doing?
I try not think about these things but then again there are so many stories happening in the world at the same time. I'm really hoping I can make a film that people will see in the cinema and they walk out with a heavy heart, and feeling inspired.