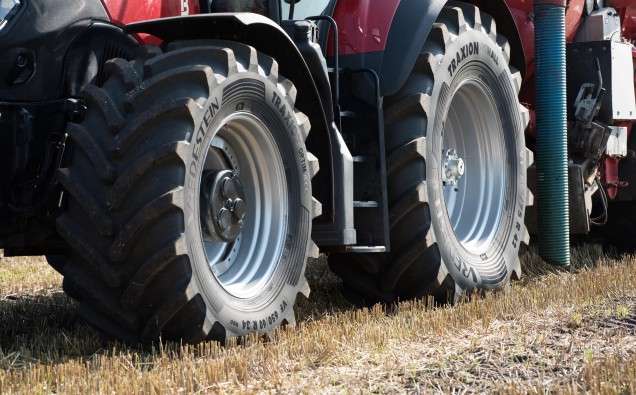 vredestein's specific research and development on the particular needs of tractor manufacturers and end users sets a new benchmark with the new Traxion Optimall: the latest agricultural tyre from the Traxion range is, in fact, the only VF tyre to allow a lower inflation pressure in the field, ensuring (up to) 15% larger footprint compared to VF and 25% compared to IF (Increased Flexion) tyres currently on the market.
As a result, the Optimall has unparalleled traction, ensuring fuel efficiency and productivity durability, therefore substantially reducing the total cost of ownership.
The introduction of the Traxion Optimall was preceded by intensive testing by both Vredestein and the renowned German institute DLG (leader in testing and certification in agricultural technology), which confirmed the exceptional performance of this new VF tyre: a tractor above 400 hp (fitted with Traxion Optimall) carrying out tillage activities experienced 5.5% less slippage than the same tractor fitted with IF tyres of another premium brand*. This equals to 7% less fuel consumption and a corresponding gain in productivity. The result in savings is € 162 per 100 ha of work.
F+ Technology
The Traxion Optimall makes full use of Vredestein's F+ technology, combining very high flexibility with exceptional stability. The highly flexible sidewall consists of a focused flexing point. A high-tech rubber compound in the shoulder area supports the carcass at low pressure for extreme deflection. Together, these features enable the Traxion Optimall to be used at up to 25% lower pressure in the field than other VF tyres currently on the market (40% lower compared to IF).
F+ Technology guarantees a high degree of stability through a bead stabiliser. A specially-designed rigid upper bead zone supports the stability of the Traxion Optimall, even at low pressure. The result is 10% more radial stiffness compared to other VF tyres, ensuring safe handling during heavy road transport.