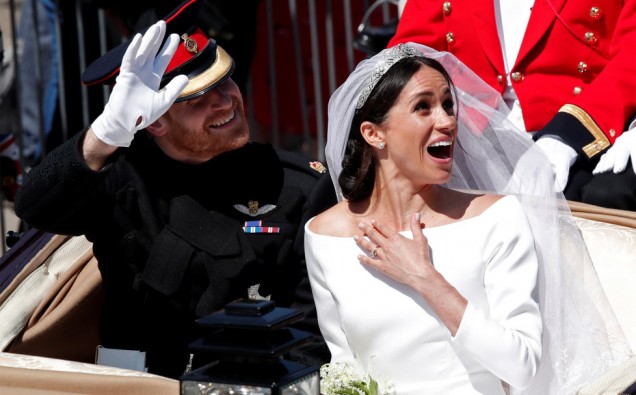 The royal wedding which took place on the 19th of May was an emotional ceremony
that the nation viewed as a fantasy wedding. The Duchess of Sussex looked incredible in
an ivory boat neck and gown by British Designer Clare Waight, Artist Director of Givenchy.
Sticking with her signature classic style, Meghan's demure long-sleeved dress was understated, but her incredibly long veil made for a beautifully dramatic entrance, which she teamed with an incredible tiara, which is thought to be the Queen Mary
Tiara Bandeau, on loan from the Queen herself.
Many top celebrity A-listers attended the ceremony, including the casts of suits, David Beckham and Victoria Beckham, George Clooney and wife Amal Clooney and Bollywood star Priyanka Chopra.
Priyanka Chopra, the long term friend of Meghan Markle attended the ceremony wearing the chicest lavender suit (matching fascinator included, of course) by Vivienne Westwood. The lavender suit was a mix of a midi skirt and purple blazer, with a matching lavender hat.
Her makeup matched her outfit as she went for a purple smokey eye and deep
lip. Priyanka also attended the wedding reception in the evening, where she dramatically changed her outfit to a sparkling gold Dior gown. Her dress was elegant and she opted for a simple glowy makeup look.
Meghan's mother also attended the ceremony and Prince Charles walked the Duchess down the aisle as her father could not attend the ceremony. The Duke and Duchess' royal duty pertains to them carrying out their official engagements as husband
and wife-for the first time.
The Duchess has already acknowledged her role fully and expresses that she is ready to "hit the ground running" as a member of the Royal family. The Buckingham Palace has also granted its blessing for her to make use of her position to fight for feminism- that has been one of her passionate concerns since age 11.
She is further expected to announce the list of charities and campaigns that she aims to
support. The monarchy's official website details that the Duchess will be using her role to promote "social justice and women's empowerment." The website also confirms that Meghan will undertake duties in support of the Queen both overseas and in the UK.
In 2015 Meghan made a famous speech that announced that she was "proud to be a woman and a feminist". She has worked with numerous charities in the past to ensure her concerns are practically considered.
As part of their royal duty, the couple attended a Buckingham Palace garden party to celebrate the Prince of Wales' 70th birthday. They are also scheduled to visit Australia in October 2018.
The couple also attended two receptions hosted by the Queen and the Prince of Wales respectively. The couple are believed to be in Canada for their Honeymoon.