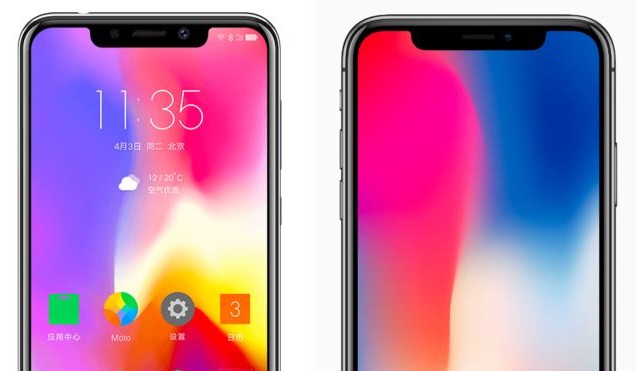 Since the launch of the IPhone X, a new innovation has revolutionised the concept of design. The notch display was not the idea by Apple.inc but it was promoted by Apple when it was introduced in IPhone X. After the launch of Apple's flagship phone, many tech mega companies adopted the same design implementation in their Smartphone's. IPhone uses it in its own way with a small bezel and top notch screen with vertical dual cameras and a flash within. However, expectations were ruined by Motorola's new flagship phone P30.
Motorola has been in the market for the last 89 years with their innovative gadgets which are considered as market leaders in the field of tech. The first Fingerprint Sensor in Motorola Atrix has also be introduced by this brand. Motorola uses brand images, but the new design of P30 was an egregious rip-off of IPhone X.
The device offers 82% screen to body ratio which is 0.9% less than iPhone X, But the arrangement of the camera and rounded corners of the phone including the position of fingerprint sensor made their customer thinks twice before answering twice.
With so much resemblance in design, many tech analysers spoke as well. Talking on the similarity between the Motorola P30 and the iPhone X, technology blogger Marques Brownlee called it the "most shameless rip yet."
A well-known news and reviews site Technobuffalo said that the design was an "egregious clone" that was "nearly impossible to distinguish" from the iPhone X.
Another Tech news site The Verge tested P30 in a particular way and concluded that Google's Face recognition algorithm considers Motorola P30 as IPhone X.
"Phone makers need to innovate and find ways to differentiate if they want to maintain consumer desire to upgrade their phones," said analyst Ben Wood from the CCS Insight consultancy.
One thing that gives an even more bad view about Company's flagship is the wallpaper is that they used a default which gives it more of an IPhone X look rather than any other smartphone. On which News site Mashable said Motorola "even went so far as to adorn the screen with a wallpaper that's a dead ringer for Apple's default wallpaper".
Although the first top-notch was introduced by LG in model V10 back in 2015, Apple is considered to be the brand who marketed this idea in their product and achieved a lead. Apple sold more than 100000 IPhone X's in the first hour of the launch of its flagship device. This makes the difference in the field of technology and information that "it does not matters who did it, it does matter who did it in right way".
Lenovo which own Motorola mobility extension after being purchased by Google in 2015, did not react on it. It has been reported that Motorola plans to sell P30 in China first, but there is no information about an international launch.