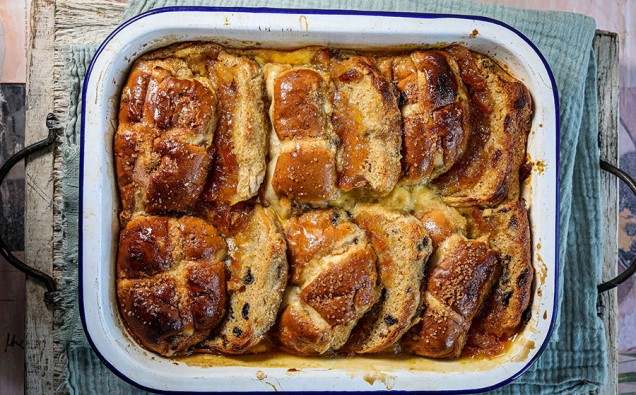 Serves 4
Ingredients:
6 hot cross buns, sliced 
2 free-range eggs
250ml whole milk 
200ml double cream 
100g Moose Maple Butter (or plain)
6 tsp blood orange marmalade 
2 tbsp golden caster sugar 
1 tsp vanilla extract 
1 tsp demerara sugar 
Method:
Preheat your oven to 180˚C and slice your hot cross buns in half. Spread with Moose Maple Butter and arrange in a roasting tray. 

Make a simple custard by warming 200ml of cream with 200ml whole milk and caster sugar. Add a teaspoon of vanilla extract.  

Whisk the eggs and gradually pour in the warmed milk and sweetened cream. Return to the hob and warm on a low heat for 3-4 mins to thicken slightly. 

Then just before you pour over the custard spoon some blood orange marmalade between each hot cross bun. 

Pour custard over your hot cross buns and leave to soak in for 10-15 mins. Sprinkle with demerara sugar and then bake for 45-50 mins until golden. 

Serve with double cream dribbled over this wonderful seasonal pudding.