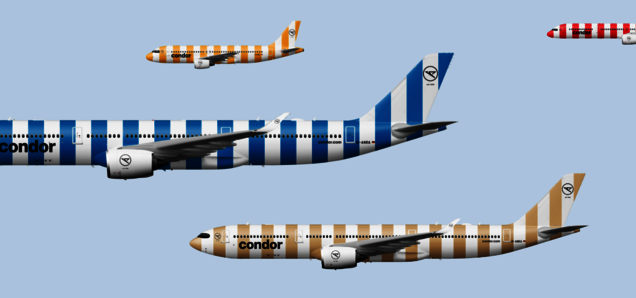 After the pandemic many airlines are coming up with new creative ideas to attract their customers. One of them is Germany's popular leisure airline Condor who unveiled its new brand identity which is on the theme "VACATION". Inspired by the bath towels, parasols, beach chairs Condor planes will be painted in five different colors – in stripes pattern.
Each color is based on a vacation theme i.e Yellow – Sunshine, Red – Passion, Blue – Sea, Green – Island, Beige – Beach. They will stand for the facets of diversity of Condor's guests, employees and multitude of opportunities to discover the world. Not only this Condor will upgrade the entire brand from livery to crew uniforms. A new design will be given to crew uniforms & accessories, many items on board will also get replaced such as cutlery, blankets, materials on the ground such as ID Cards, airport signage, boarding passes. All the old design will get disposed of by replacing the new one successfully.
This new brand identity concept came under the direction of Remo Masala, owner of the creative agency vision alphabet in Berlin said, "Revising Condor's brand identity with its long tradition is a delicate interplay based on respect for its origins and requirements for the future. Our goal was to endow Condor with a special visual independence, the rationale of which is united in Condor's brand essence. The invention of the vacation flight and the effective vacation code the stripes of summer, joy and freedom."
By 2024 around 80% of the fleet will get repainted. The new design was unveiled in Toulouse with the A320neo. Six aircrafts are ready and scheduled to fly with the new design this summer. A321 with registration D-AIAD already flown to Lanzarote on April 5th. Five more B757 and A320/1 aircrafts will be repainted which will fly to Mallorca, Greece, Canary Islands, Egypt.  
Ralf Teckentrup, CEO of Condor said, "Condor has undergone a transformation over the past two and a half years. From a subsidiary of a vertically integrated travel group to an independent airline that looks back proudly on its history and tradition while at the same time embarking on the path to the future. We want to express this unmistakably through our corporate identity. Condor is vacation and Condor is unmistakable – like our new design with which we are now launching into the future. Our new trademark is stripes, our figurative mark stands for our origin and colors for diversity. This triad is new, what remains is our passion. it has always made Condor unique and is therefore also reflected in our claim: Passion is our compass."
So, this summer get ready to see Condor livery in five different color stripes for vacation.  
By: Rida Khan (Aviation Author)
Instagram A/c: aviationauthor.ridakhan