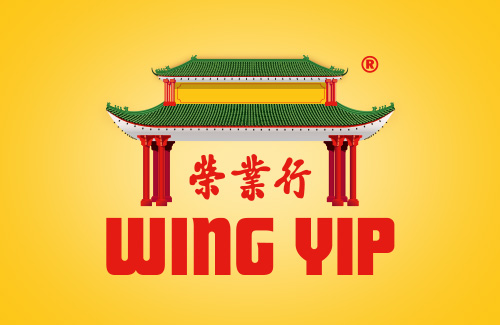 Get your selection of fresh veggies at the ready to celebrate Vegetarian Week (14-20 May). If you're looking for some culinary inspiration, look no further. Wing Yip, the UK's largest Oriental grocer, offers an array of exciting cookery ingredients packed full of flavour. What's more, the experts in Oriental flavour has a number of mouth-watering recipes to keep Vegetarian Week exciting.
Wing Yip has created a delicious recipe using braised aubergine with tofu, inspired by the staple vegetarian dish eaten amongst families in China. Wing Yip's Vegan Ma Po Tofu recipe, is not only easy to make but is also bursting with Oriental flavour.
Both recipes are ideal for those wanting to put a spin on their mid-week meals, and for those who simply want to experiment with different ingredients.
Tofu, which is high in protein and carbohydrates, accompanies the seasonal aubergine and a flavoursome rich sauce perfectly. This recipe has all the components to make Vegetarian Week a success in the family household.
With four stores across the UK, in Birmingham Cricklewood, Croydon and Manchester, Wing Yip has everything that's needed to create some fantastic dishes. Shop online at www.wingyipstore.co.uk.
Braised Aubergine with Tofu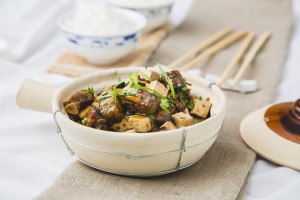 Serves 4
Ingredients:
900g aubergine, ideally Chinese aubergine if you can find it
100g table salt
2 tbsp vegetable oil
6 cloves of garlic, 2 whole cloves lightly crushed with the back of a knife and 4 thinly sliced
2 spring onions, thinly sliced
3 tbsp pickled Sichuan vegetables
350g firm tofu, cut into 1-inch cubes
2 tbsp fresh coriander, roughly chopped
 Sauce:
2tsp black vinegar (Chinkiang Vinegar)
150ml Wing Yip Shao Hsing Wine
1 tbsp corn starch
3 tbsp Wing Yip Light Soy Sauce
2 tbsp brown sugar
1 tbsp fermented chilli paste
1 tbsp Wing Yip Pure Sesame Oil
Method:
Cut the aubergine into roughly 2-inch cubes and place into a colander. Sprinkle over the salt and mix thoroughly to ensure that the aubergine is evenly coated. Leave for at least 30 minutes, but ideally for 1 hour.
Rinse the aubergine thoroughly to ensure that any remaining salt is removed and then pat dry with kitchen paper.
Place into a steamer with a lid which has been carefully placed over boiling water. Cook for the aubergine for 10-15 minutes, or until completely soft. Carefully remove the steamer from over the boiling water and set aside.
Whilst the aubergine is cooking, in a bowl combine the sauce ingredients and whisk until the cornstarch has dissolved and then set aside.
Once the aubergine has steamed and the sauce has been mixed, heat a clean wok over a medium heat and add the vegetable oil. Add the 2 lightly crushed whole garlic cloves and stir-fry until lightly golden. This should take approximately 5 minutes. If the garlic cloves are browning too quickly, turn down the heat.
Remove the garlic cloves and discard as these were used to flavour the oil. Turn up the heat to high and add the thinly sliced garlic, white parts of the spring onions and the pickled Sichuan vegetables. Stir-fry for 1 minute and then add the sauce mixture to the wok being careful not to let any of the ingredients burn. Constantly stir until the sauce ingredients have fully incorporated.
Add the steamed aubergine to the sauce and then carefully add the cubed tofu. Gently fold all the ingredients through the sauce and bring to the boil. Once boiling reduce the heat to low and simmer for 5 minutes or until the sauce has thickened and the aubergine and tofu are piping hot.
Serve immediately with boiled jasmine rice and garnish with the spring onion greens and the coriander.
Vegan Ma Po Tofu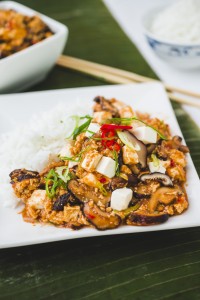 Serves 2
Ingredients:
30g dried shiitake mushrooms
200g extra firm tofu
2 tsp Wing Yip Light Soy Sauce
1 tsp Wing Yip Sesame Oil
1 packet soft tofu
2 tbsp peanut or vegetable oil
1 tsp minced garlic paste
1 jar Wing Yip Spicy Szechuan Sauce
2 spring onions (fine sliced)
1 red chilli (fine dice)
Method:
Soak the shiitake mushrooms in just-boiled water for 20 minutes, or until soft. Once soft, drain but reserve the mushroom liquid.
Gently crumble the extra firm tofu with your hands and season with 2 tsp light soy and 1 tsp sesame oil.
Dice the soft tofu into 1cm cubes (handle gently).
Heat oil in a wok and quickly add minced garlic, mushrooms and crumbled extra firm tofu.
Stir well with a metal spatula.
After 1 minute, when the garlic has started to colour add Wing Yip Spicy Szechuan Sauce and continue cooking for 5 minutes. If you prefer your dish to be quite wet, add some of the reserved mushroom liquid at this stage.
Add the diced soft tofu and cook for further 2 minutes, allowing tofu to absorb sauce.
Just before removing from the heat GENTLY stir in onions.
Garnish with more sliced spring onions and the diced red chilli and serve with boiled rice.