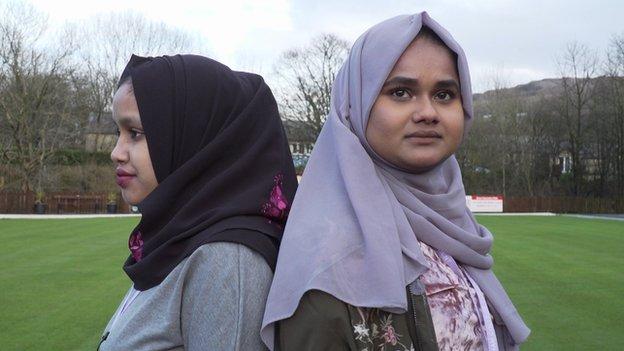 Bowls started in the 13th century Britain, as a slow-paced sport for gentlemen. Girls in Oldham from British black and Asian backgrounds are changing this perception.
"I thought why not just try it," says Qhadijah Begum, a 17-year-old Oldham College student. "It's fun, it's not the hardest of sports and you can learn in a good 10 minutes."
Qhadijah and her friends, all aged 16-18, take part in weekly Bowls sessions at Freizland Bowls Club in Saddleworth. The sessions are organised by Sport England, where £5m of lottery funding went into 49 colleges, aiming to get under-represented students fit and active.
Sport England's Active Lives Survey (2015-2016) shows that South Asian women are the least likely group to play sports, with over 51% not exercising for at least 150 minutes per week. Qhadijah reveals "I was scared that people would look at me and ask 'this girl wears a hijab but she's playing sport, doesn't she have respect for herself?' – but every
human has a right to do what they want."
Aklima, an 18-year-old student from the same college also agrees with this, and said: "People will think that because she's all covered up, she won't be active. But all we want is motivation and someone to tell us we can do it." Paul Townsend, chairman of Freizland Bowls Club said: "The only criteria is flat soled shoes, they can wear anything they want to – that's what makes it accessible,"
"People think it's an old man's game but this has to be washed away because there's a lot of young people and it would be fantastic for the sport to make it more diverse with other cultures and faiths playing the sport."