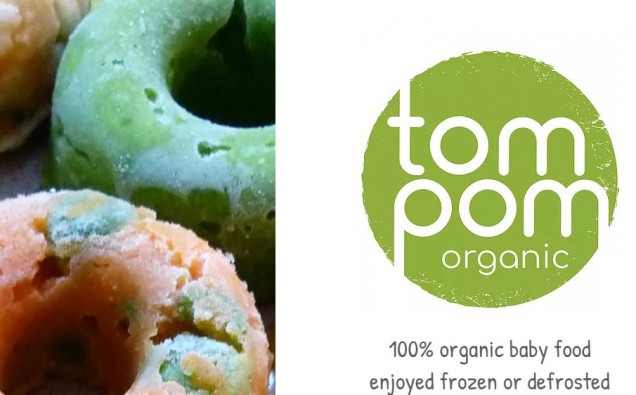 Mum Kari Sherman has launched her own brand of delicious, freshly frozen hand-made rings which offer a fun and nutritious weaning option for all parents, including for those who have little ones with food allergies.
Kari (46), who lives in East Horsley, Surrey, goes into production with her range of six Tom Pom Organic products this month, providing parents of little ones with food allergies a safe option as the range is free from gluten, dairy and nuts.
The frozen purees and meals recipes were developed to satisfy baby's nutritional needs. Made with the finest ingredients, they are minimally processed and then blast frozen into rings that can be enjoyed frozen as a teether or defrosted for a nutritious meal.
"When I was struggling in those early days with my second son Tommy, known as Tom Pom, I would have given anything to be able to buy safe, nutritious food for him that looked and tasted like what I was making in my kitchen. The pressure to cook was absolutely relentless, and exhausting for us all, but there was no other option," Kari said.
Tommy, now 13, struggled as a baby and Kari knew he was in pain. Like any parent, she sought answers. At nine months old he was diagnosed with multiple food allergies, particularly to nuts (including peanuts) and dairy but even to potato, chicken and watermelon.
At the time Kari could not find any baby or weaning foods on the market which were healthy, allergy friendly and not highly processed.
"I would be up at night batch cooking meals and freezing them to get through the next few days. I will never forget the stress of that time and often wondered how many other parents were doing the same thing. You can feel very alone in this situation," she said.
As the years passed, Kari continued to cook nutritious, tasty and allergy-friendly meals for her family and found that friends in her own community started asking for her recipes and advice on weaning their children with allergies. It was her partner Andy who encouraged her to turn her passion of making healthy and allergy safe baby food into a business.
"With my partner Andy, who is a GP, we spent two years in research and development to understand the best ingredients, minimal processing required and the regulations around producing frozen baby food. Last year we started producing small batches in our SALSA (Safe and Local Supplier Approval) registered professional kitchen to test the local market. We are now ready to go further afield and offer our latest range of six products to a wider audience."
Tom Pom Organic will launch with three purees and three meals for babies and toddlers:
Organic apple, oat and cinnamon puree
Organic broccoli and brown rice puree
Organic sweet potato puree
Organic red lentil dahl with brown rice meal
Organic chicken, quinoa, pea and spinach meal
Organic salmon, sweet potato and pea meal
Tom Pom Organic will be available for delivery across the UK from January, with orders being taken on their new website www.tompomorganic.com  Pre-orders can be taken now by emailing support@tompomorganic.com