 No junior doctors working up to the legal limit on working hours will lose money under a proposed new contract, the health secretary has said.
Jeremy Hunt made his remarks in a debate called by Labour to focus on the changes to junior doctor contracts, which are due to be made by government.
He said the new contract was "about patient care and not saving money".
The British Medical Association said Mr Hunt had "finally made a significant shift" but said it wanted more details.
Mr Hunt has also written to the BMA "giving a firm guarantee" that no junior doctor will see their pay cut compared to their current contract.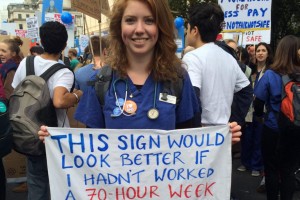 When asked how extending the "normal working hours" of junior doctors would not result in a loss of money, the Department of Health told the BBC more details would be announced "in the coming days".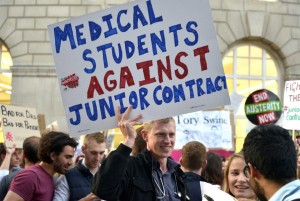 'Unnecessary anger'
As it stands junior doctors get extra payments for work outside normal hours – which are currently classified as 07:00 to 19:00, Monday to Friday.
The new contract would see these hours extended to include 07:00 to 22:00 on every day except Sunday.
Debate has raged over pay, with the BMA claiming the new contracts could result in cuts of up to 30%.
But Mr Hunt told the Commons this was not the case, and said the BMA had chosen to "wind up their own members and create a huge amount of unnecessary anger".
'Misinformation'
In his letter to the BMA, he added: "It is deeply regrettable that so many of your members still believe that pay cuts in the order of 30 or 40% are on the table.
"I am told the pay calculator on the BMA website which implied this has now been withdrawn, but to date there has been not attempt to correct the misinformation and fear which quite understandably spread as a result."
He wrote that he would be "setting out the full details of the government's contractual offer to junior doctors in the coming days".
His letter said the new contract would mean no junior doctor would be required to work more than 48 hours per week, with a new maximum of 72 hours per week. He said current contracts allow a maximum of more than 90 hours per week.