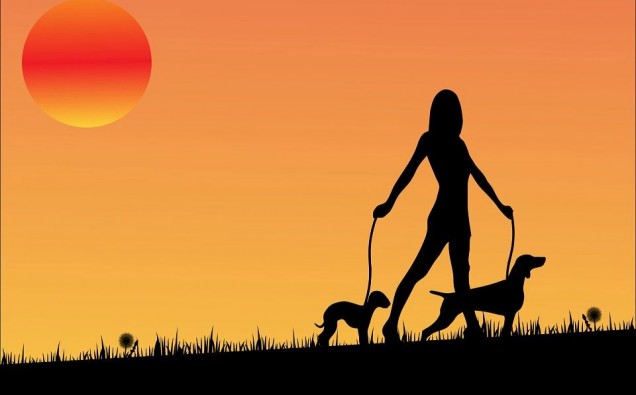 A new study has found that Brits with dogs walk and talk more than those without as dog lovers claim to walk 870 miles a year – just walking their pet. 
The study, of 2,000 adults including 1,000 dog and non-dog owners was commissioned by Lintbells – manufacturer of natural joint supplements for pets and people. It found that dog owners in the West Midlands on average walk more than 15 miles a week. Across the country, on average almost 17 miles are walked every week thanks to our dogs, while those without a pooch will trek less than 14 miles. 
Results show that the average pooch in the West Midlands is taken out on a walk for an average of 32 minutes every day and 8 times every week. With each walk covering almost 2 miles, that means a total of around 4 hours a week or 9 days a year, spent exercising the dog! 
44% of the dog owners surveyed in the West Midlands confirmed that owning a dog has improved their overall mental health and has reduced their stress levels.  
25% of dog owners in the West Midlands say they walk further now than they did before getting their four-legged friend.  
Gemma Cunningham, from Lintbells said: "Dogs can be a great addition to the family and a real incentive to get out and spend some quality time with your family and friends. It's great to see that the results of the survey show how much our dogs have a positive impact on their owner's lives. It is important, to take time out of your busy schedule to exercise – both for your own and your canine's overall health and wellbeing."  
"Just like humans, dogs are social beings and don't welcome loneliness so getting out and exercising can be a perfect way to leading happier and healthier lives."  
It may not all be roses though, as before dog owners even step outside the door there will be more than 156 family rows in the West Midlands over 'whose turn it is' to take the pooch out each year. Around 45 per cent of dog owners in this region also admit they try and pass the walk on to their children – an average of 4 times a month. 
The survey carried out via OnePoll.com also found that although 88 per cent of dog owners in the West Midlands say they enjoy walking their four-legged friend, with a third blaming poor weather for not getting out more often. Around 27% of those in this region don't have time to walk their dog any more than they already do, while another 20% are too busy with work issues. 
Results also revealed that dog owners in the West Midlands also pick up nearly 832 'poop bags', play 1,664 games of fetch and call their pet's name at least 1,248 times, annually – all when walking the family pet. 
Gemma further added: "The winter months, especially January can make even the best of us feel down in the dumps. The cold dreary weather, post-Christmas blues and lack of sleep can make us feel sluggish and overweight.  
"At Lintbells, we have always emphasised the importance of staying active as it is the key to a happier and healthier lifestyle, both mentally and physically. The results of this survey solidify this claim and we urge all dog and non-dog owners to set aside some time for exercise every day. If you've got a dog that's the perfect motivator as well!" 
*Study conducted by Royal Veterinary College