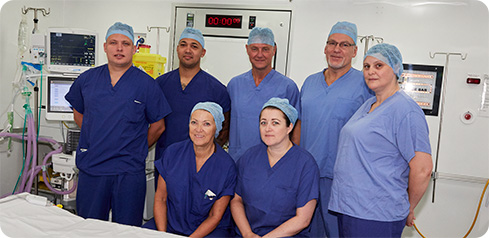 A new dedicated facility for patients undergoing gallstone surgery has opened at Solihull Hospital.
The Gallstone Treatment Centre is a mobile theatre provided by Vanguard, which stands on the site of the hospital's former dermatology building.
It consists of a dedicated reception, an admission suite, an anaesthetic room, a staff changing room kitchen, toilet facilities, and utility and recovery areas.
An integrated approach has been taken with clinicians working on a rota basis, pooling patients from all of its hospital sites. Working with the Vanguard clinical nursing team, the Trust aims to perform, on average, five surgeries a day for six days a week.
Best practice models by the Royal College of Surgeons and the NHS Institute for Innovation and Improvement and NICE guidelines recommend a centralised acute gallstone service provision as the best way forward in order to deliver a high quality service and meet national targets.
By improving the patient flow across the Trust, this will reduce patient waiting times and ease demand on the Surgery Assessment Units and emergency theatres. Ultimately it will relieve pressures on the Trust system overall.
Divisional Director (Division 4) Martin Richardson said: "Working alongside Vanguard will mean patients will benefit from a specialised facility where the expertise of a focused team performs their procedure in a timely manner.
"This will facilitate prompt definitive treatment of acute gallstone disease and additionally address waiting times for elective surgery and optimise day case best practice.
"As a result, patients are expected to recover sooner, have a shorter hospital stay and a reduced chance of further complications or of re-attending in the future."
Regional Manager at Vanguard Simon Squirrell said: "We're delighted to be working alongside the Trust to create the Gallstone Treatment Centre which will help increase the number of procedures the teams across the Trust can offer to patients, adding capacity and additionally help meet increasing demand."
The mobile theatre will be on site for the next two years. In the long term, the aim is for all gallstone operations to be performed in the main theatres at Solihull Hospital.