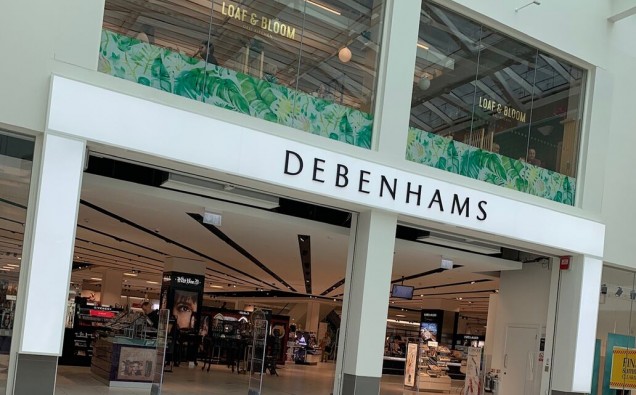 Image caption: The current Debenhams store in Wolverhampton where House of Fraser is due to Open 
It has been confirmed that House of Fraser will further leave its mark on Wolverhampton's retail seller. The retail chain now plans to open a new store in, the city's central shopping complex, the Mander Centre.  
Tycoon Mike Ashley will launch Frasers, which will sell a mix of brands from the store's exclusives, as well as the likes of Flannels, Sports Direct and USC brands. Currently, the store is occupied by the high street department chain Debenhams until early next year. The deal is a massive boost for the Mander Centre and will come as a relief to the bosses following the blow of losing the anchor store Debenhams, which will close in early 2020. 
It also brings the end of more than 140 years of retail history at Beatties, which is currently in the process of being sold. The University of Wolverhampton is amongst the bidders for this sale. This new development means the Mander Centre will maintain a large department store following the loss of Debenhams, whose exit from the city was confirmed last month. 
It is thought the numerous different brands of Mr Ashley's retail empire, from luxury Flannels to budget Sports Direct, will operate on separate floors. Sources have confirmed talks between House of Fraser and the Mander Centre but both parties have not said anything over a possible deal until now. 
"We are delighted to welcome Frasers to the Mander Centre. This is terrific news for our loyal shoppers who will see a significant upgrade in our premium brand line up. This long-term commitment signifies the confidence major brands have in both Wolverhampton and the Mander Centre as the city's pre-eminent customer destination. 
The Mander team work hard to give all our customers good reasons to shop locally in the city where they live and work" said Jonathan Ratnage, retail sector specialist. 
 Michael Murray, head of elevation at Sports Direct International, which owns House of Fraser, said: "We are really proud to have secured this retail destination in the heart of Wolverhampton and look forward in bringing our new elevated multi-brand concept to the Mander Centre in 2020." 
By Tauseef Asif