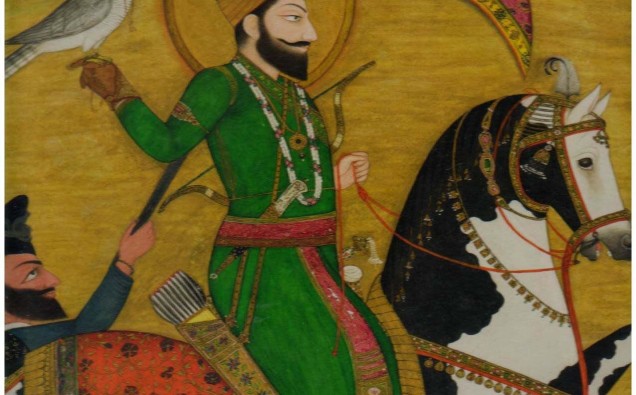 Davinder Toor's new book tells the incredible story of the Sikh Empire through amazing illustrations and in-depth research into the history of the era 
This unique book re-calls the triumphs and downfalls of the Sikh empire like no other. It showcases an outstanding collection of over 100 rare and beautiful objects from Toor's private collection of the finest Sikh art. His exclusive works consist of many paintings and vintage photographs which have been out of sight and unpublished until now. 
Historian and acclaimed writer, William Dalrymple, sets the foundations of Sikh art in the book's introduction. Over two centuries ago, Punjab was ruled by the Sikh empire which aimed to enhance the grandeur of their kingdom through the display of luxurious objects to reflect the powerfulness of the Sikhs. However, after two failed wars against British India, the empire collapsed which also became the end of the beautiful and cultural objects. The decorative Sikh items were then distributed across the world through numerous auctions.    
Toor is a leading figure among Sikh art collectors and his passion for his work enabled him to bring the private and finest artefacts back to life in this book. He developed an early passion for collecting art at the age of 17 and shortly after he volunteered for the Victoria & Albert Museum's exhibition 'The Arts of the Sikh Kingdoms' in 1999. Toor then became a consultant to private collectors, institutions and auction houses such as the British Museum, Victoria & Albert Museum and Wallace Collection, and in result created his private collection which he was then able to share within 'In Pursuit of Empire'.     
The attention to detail in the art displayed in the book is gripping. Readers are told the story of the empire chronologically through Toor's collection of unpublished art and items such as war equipment and traditional jewellery worn and used by Sikhs at the time. An in-depth story and historical research follows each image in the book, allowing readers to learn more about the origin of the era.  
Not only does the book take you through events of the empire during the era, but also key figures of the empire, such as royalty, readers are then able to see unpublished art of each individual. 'In Pursuit of Empire' is an aesthetically pleasing book filled with masses of valuable information about the history of the Sikh Empire which keeps the reader gripped throughout.  
The book will be published 16th May, by Kashi House, at a retail price of £34.99, https://www.kashihouse.com/books/in-pursuit-of-empire 
Navkiran Bains