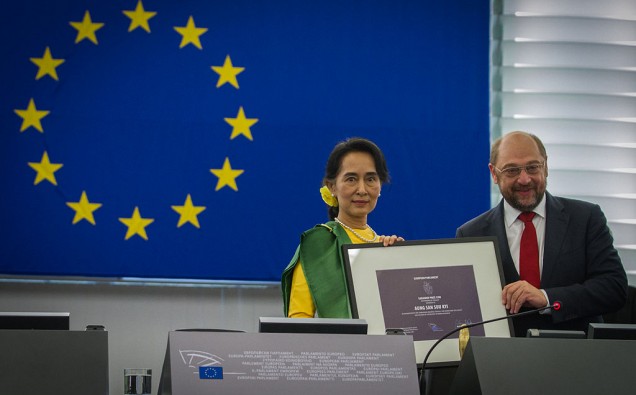 The worldwide Human Rights Activist Group, Amnesty International, has stripped Aung Suu Kyi of their highest title. The 'Ambassador of Conscience' award was given to her in 2009, whilst she was living under house arrest for her activism.
However, now she has been rebuked of such an honour, with the group citing her inability to speak out for the discriminated Rohingya. Approximately 700,000 of these civilians have faced a barbaric military crackdown in Bangladesh, which Suu Kyi has treated with indifference. According to investigators of the UN council, these innocent people have been victims of random killings and gang rapes with the intent to wipe out their minority population. It is believed that Suu Kyi has even declared complete "denial" of these violent crimes, which she should be responsible for protesting against.
Amnesty leader Kumi Naidoo said: "Without acknowledgement of the horrific crimes against the community, it is hard to see how the government can take steps to protect them [the Rohingya] from future atrocities."
He further commented on the day that the organisation removed her prize: "We are profoundly dismayed that you no longer represent a symbol of hope, courage, and the undying defence of human rights."
Suu Kyi's attitude has come as a surprise to many countries' governments and humans rights activist groups. Her administration team have been blamed for labelling Rohingya peoples as "terrorists", and not attempting to repeal Bangladesh's repressive laws.
In September, Suu Kyi was defending the imprisonment of two reporters, who were receiving jail sentences several years long. They had been arrested for reporting against the Rohingya genocide crimes against the Muslims living in that area. The sentences also protested against by the UN and other human rights groups as a misdemeanour against justice and freedom of speech.
Suu Kyi is an ex-student at Oxford University, where her honoured portrait has since been removed. The 'Freedom of the City' award which she won there has also been stripped from her since November of last year.
"We are dismayed that the the government has not only failed to repeal or amend repressive laws but has actively used them to curb freedom of expression, and arrest and imprison human rights defenders, journalists and other peaceful activists… We will continue to fight for justice and human rights in Myanmar — with or without her [Suu Kyi's] support," Amnesty's Naidoo said.
By Manisha Bhanot.