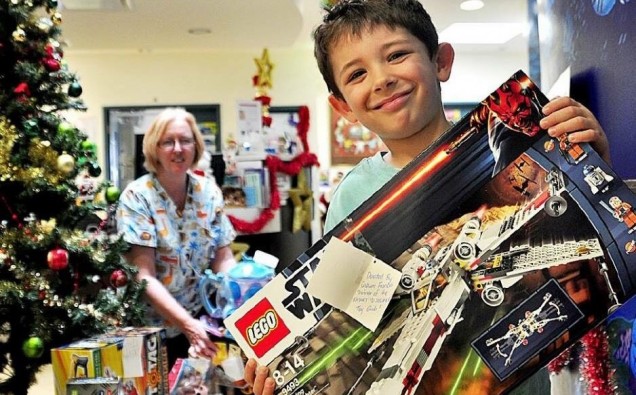 Sikh Toy Appeal, a West Midlands based organisation opened its doors this November. It began receiving donations from the public in the form of kids' plastic toys, board-games, figurines and dolls, in order to deliver them to under-privileged children this winter. The appeal has received support from all over the UK, in an effort to help make children happy this Christmas, who would otherwise have not been able to receive any gifts during the holiday season. The organisations Sikh Toy Appeal has targeted include ones supporting disabled children, kids in care and those from less financially stable homes, who are often unable to experience the full joys of this festive time of year.
Among other business attending the launch party of the appeal were local care homes, homeless people's charities, manufacturing companies and even West Midlands Police turned up to show their support. The venue for the event was beautifully decked out in the form of a winter wonderland grotto. With decorated Christmas trees, dazzling lights, a snow decked floor and even a make-shift sleigh to hold the children's' gifts, the place was truly a delightful sight to see. Santa himself had come down to add a sprinkle of magic to the opening day of the appeal, where guests were being served home-made cakes and encouraged to take their pick from a frosted sweets counter – all as a way of thanking them for their donations. Asian World News attended the launch party of the new fund-raiser in Wolverhampton, to find out just why the appeal was started and the ways in which it's trying to help our local community.
What is your long term-goal as an appeal and reason for existing?
We've basically been working on our project for the last three years now. We've been getting out there each Christmas period and partnering mainly with hospitals, food banks and football clubs, helping these organisations out with the gifts we can donate towards them. That's why we've finally decided to launch our appeal this year and broaden the amount of the community aid we can offer.
How much support have you had from the local community so far?
To be honest, we only put out our first social media post a couple weeks ago and the feedback has just been phenomenal. We've had such a massive response from our local Gurdwara, schools, lots of businesses, etc. Everybody has seen how we're working really hard for children and the organisations that benefit them.
How far has the reach of support you've received been and how many toys have been donated in total so far?
The reach has been national, and we've also had a couple of international organisations approach us as well to start working and partnering alongside us. In the 'Santa's Grotto' we've created to hold our donations, we would probably have a couple of thousand toys already but this is just the beginning of our launch!
Whose idea was it to start the charity and why, was it an individual or collective group choice?
It's been a collective group choice. We don't like to say we have any bosses because we all completely work together. We came together thinking exactly the same things and being on the same page to start this appeal. We liaise with each other constantly throughout our projects and that's how we operate.
Where will the toys be delivered to?
We have hospitals across the west midlands we will be donating to. We've got hospices and a couple of organisations that already support them wanting to partner with us as well now. The Roshni haven who specialise in domestic violence families, lots of special needs schools and pupil referral units have also come on board too.
How would you encourage the local community to help out?
We can help get the word out and spread it through social media and our networks, and then it's up to people themselves to come and support us if they choose to. We're trying to show everyone who's come to our launch event that we're an independently managed organisation and we're all in this together – it's about supporting the area we live in, and partnering with the organisations that we think can best support our cause.
What future events do you have planned, what's next for Sikh Toy Appeal?
I think it would just be a watch this space answer to that one. We have a lot of plans lined up in store that we're hoping to reveal very soon!
By Manisha Bhanot