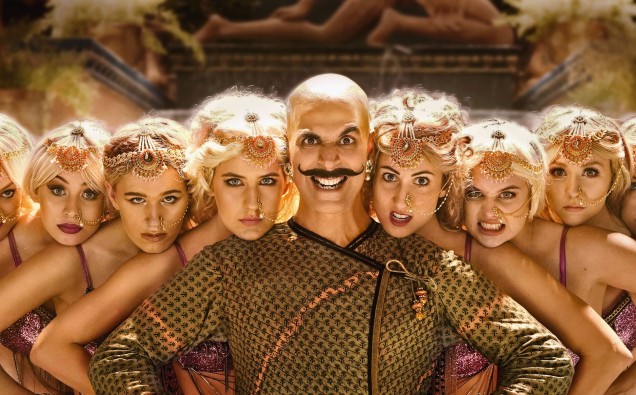 1. How was the experience working with the producer of the film Sajid Nadiadwala?
 Akshay Kumar: Our relationship stems long back. We used to catch bus number 255 to go to school together. And we have come a long way since then, having worked in almost 15 films together. I can safely say that my kitchen runs because of him (laughs).  My kids go to school because of him, and I pay my electricity bills because of him. He is one of the luckiest producers for me and I am glad I have had the chance to work with him again and again.
2. Experience working with the other cast of the film
I don't remember how many films Riteish and I have worked together in. He is more than a co-actor; a very close friend and we often sit together and share our highs and lows. The same is true for Bobby Deol, this is our fifth film together. And these pretty women who I am working with for the first time, have been an absolute pleasure to work with. Not to forget Chunkey Pandey aka Aakhri Pasta who is an indispensable part of the franchise, he is the pasta to our plate of sauce. He always has jokes up his sleeve to entertain us.
3.  Just like Virat Kohli is considered as the run- machine for the Indian cricket team you are considered the run machine for Bollywood. What is the secret behind taking films that cross the 100-cr mark at the box office each time?
I know you wouldn't believe me, but I believe that luck has an important influence to play. There is no substitute for hard work but luck does contribute to seventy percent of your success.
4. This is the fourth instalment of the Housefull Franchisee, the cast has kept changing but you and RD have been the constant pillars of the film? How does that feel? Do you miss your old co-actors?
I don't think there are just two pillars, Mr Nadiadwala who incepted this franchise is the its third pillar. And how can you not count Aakhri Pasta, you think he is not a pillar? He is a furniture (laughs). Of course, we miss our former cast and often remember them. In-fact Nadiadwala and I were discussing the other day how we should make a Housefull film which brings together the cast across all the instalments. It will be our Avengers, the comedy avengers.
 5.  Nowadays comedy films and the comedy genre has reduced, coming with a unique concept and playing two roles how difficult is it for the actor?
Firstly, you need a big heart to make such a film and we are lucky we have the backing of Fox and Sajid Nadiadwala. Obviously, it is tough and there are a lot of hurdles that come in the way with such a large star cast as well but credit to our technicians and the whole team of the film who made the whole process very smooth. The film was completed 8-9 months ago but VFX took some time because it is a lengthy process, but we completed the film between 60-70 days.
6. Akshay what are the similarities between a present-day barber and a king of a bygone area?
According to the film there is only one similarity I can think of – that one didn't have hair and the other one was cutting other people's hair and making them go bald. But it is very confusing, I myself got confused while reading the script and while hearing the screenplay. But when I saw the film everything was clear to me. It is going to be a one- of-a kind film where reincarnation will be seen in comedy.
7. How was the experience of shooting in London, do you have any interesting stories?
London is a place where I end up going every year for shooting and this film was like a vacation because my previous 4-5 films were very serious. I often joke with Nadiadwala that whenever I want to take a vacation, we make a Housefull. London is the best place, no place better to shoot. The weather in London is good during the summers and we get a subsidy with that as well. So international vacation is also done.
8. Akshay you have cemented your place as an actor taking up social causes in movies as well such as Padman, Toilet-Ek Prem Katha, Housefull on the other hand is an out and out entertainer, what made you get back to this genre?
I enjoy this genre, I wanted to do a role without any stress and pressures and be completely open and lose all the respect I've earned with my previous few films (laughs). But on a serious note, I want to tell everyone that slapstick comedy isn't usually valued in India but its one of the most difficult genres to play on screen. No matter how good your punch line is, if your comic timing is off, the audiences won't like it.