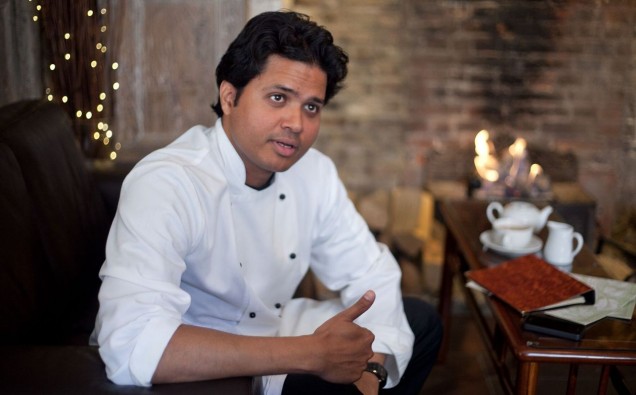 Biswal Travel launch for gastro tours to India 
 Bottomless Thali Feasts. Music Nights. 10-Course Tasting Menu. Veganuary Offers. 
Dev Biswal, the chef-owner of the multi award-winning Ambrette restaurants in Margate and Canterbury, plus the Devil in Rye, has announced a series of special events to celebrate the 10th anniversary of opening in Thanet. 
 The announcement coincides with advance notice of a new travel arm, where Dev will lead small groups of up to 12 people to India.  Ambrette Travel will be launched at special dinners at his three restaurants at the end of March.  Tours will take place in November, December and January and cost from around £3,500 per person including flights.  The new company will be offering dinners a competition prize of a trip to Indian on social media. 
 Dev opened The Ambrette on its original King Street site in Margate on 28th January 2010, where it quickly established a reputation for authentic Indian regional dishes, showcasing local seasonal produce fused with exotic ingredients, and given a contemporary gourmet twist.  His arrival in the Kent seaside town gaining repeated national media plaudits, was frequently cited as making a significant contribution to Margate's economic revival ahead of the opening of the Turner Contemporary gallery in 2011 and Dreamland amusement park reopening in 2015. 
 Biswal will celebrate with a special 10-course tasting menu priced at £49.99, reprising a popular dish from each year of the restaurant's past. These will include: Nile Perch; Goan style pork loin; Mussels in Kerala style sauce; Calcutta style prawns in coconut shell; Rye Bay Scallops and Chocolate silk. 
 The 10-course tasting menu will be served in Canterbury on 28th (sold out) and 30th January and in Margate on 29th (sold out) and 31st January. 
 Holders of the Ambrette Privilege Card will also receive a complimentary signed copy of "From Bombay to Britain" recipe book. Customers who upload an image from the restaurants' Instagram photo corner to their social media account, will also receive a free glass of Champagne. 
 For 'Veganuary' The Ambrette is reducing the priced of its Vegan Tasting Menu from £49.95 to £34.99 on 15th January in Canterbury, 16th January in Margate and 18th January in Rye. 
 Throughout January the restaurants are offering 'Bottomless Thali Feasts', which follow the Indian custom of serving meals which balance the six flavours of sweet, salt, bitter, sour, astringent and spicy dishes, on a single platter.  The bottomless Thalis are priced at £25.99 including a complimentary cocktail.  The Thalis may also be upgraded to include 'bottomless' cocktails for the whole table for a £20 per person supplement, for up to two hours whilst dining. 
 The South Indian Thali comprises:  Saffron rice, butter turkey, Kerala goat coconut fry, lentil, roast cod, potato varuval, Kerala paratha, poppadum, chutney, yogurt dumpling, vegetable avial and dessert of the day. 
 There are also vegan and vegetarian options featuring:  Saffron rice, mushroom thiyal, tandoori vegetables, lentil, masala okra, potato varuval, Kerala paratha, poppadum, chutney, yogurt dumpling, vegetable avial and dessert. 
 Ahead of the birthday celebrations, on 22nd January, the Canterbury restaurant will host a Jazz/Blues/Improv music night with Kent-based jazz singer Dulcie May and virtuoso guitarist Stephen Bridgeland, whose other venues included London's famous Ronnie Scott's Club,  
 "When I first came to Margate in 2006, it was a very different place to what it is now – and people said I was crazy to bring by style of cooking to the faded seaside town" said Chef Biswal, who added, "I may still be doollaly – but it was the right decision." 
 Full menu details and online booking at www.theambrette.co.uk