 By Alia Raffia
Bollywood is on our doorstep with the most exciting place to be in Manchester right now; Asha's restaurant. Asha's is right in the heart of the city centre, located in an elegant heritage listed building on Peter Street, facing the Theatre Royale. The project cost just under £2m to complete and was worth every penny with interiors that exude luxurious glamour.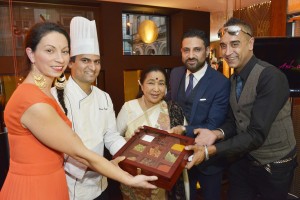 The Asha's menu offers a delicious array of Modern Indian Cuisine paired with an exciting, modern cocktail menu. I had the opportunity of dining in Asha's before the opening and I can say the food is fabulous, this is sophisticated dining that is authentic with a twist of originality. I particularly loved the different naan bread on offer including truffle, cream cheese and sun blush tomatoes. The mouth-watering deserts and cocktails are exceptional too. Most of the food is also halal and there are many delicious cocktails that are non-alcoholic too.
The multi-award-winning Indian singer is the inspiration behind the restaurant group, with many of the dishes originating from her own recipes. Asha attended the opening to meet fans and road test the menu. Herself a noted cook, Asha opened her first restaurant at Wafi City, Dubai in 2002, and the brand is now dotted all over the Middle East as well as a highly successful restaurant in Birmingham that amongst numerous awards and accolades, has been recommended in the coveted Michelin Guide since 2009.
I was able to have an exclusive one to one with the legend Asha before the opening night and ask her a bit about her inspiration behind the restaurant. She said 'cooking has always been my passion and was more than a hobby for me. I wanted to share this passion with the world so launched Asha's which is real authentic Indian cuisine. We tailor our brand to suit the market without losing touch of its originality and that is why we have been such a success. I am delighted to launch in Manchester as this is a beautiful and unique city.'
Fashion on the night from Fas Design Studio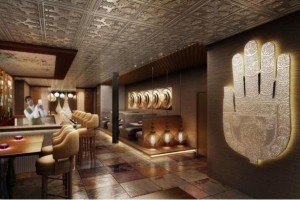 At the launch party I wore an exclusive couture outfit from Pakistani fashion designer Fas Design Studio. The embellishment on the gold coloured suit is incredibly beautiful with accents of maroon stonework and red threadwork flowers to add a pop of colour. The fabric quality is exceptional making the outfit even more luxurious. What I particularly love about this brand is the attention to detail and use of beautiful raw fabrics.
The North West's Asian fashionistas were out in force including acclaimed actress and television personality Shobna Gulati. She looked effortlessly glamorous wearing Joseph capri pants and a Topshop top. Asha Bhosle presented the chefs with a special spice box alongside BBC Asian Network's dynamic duo Raj and Pablo.