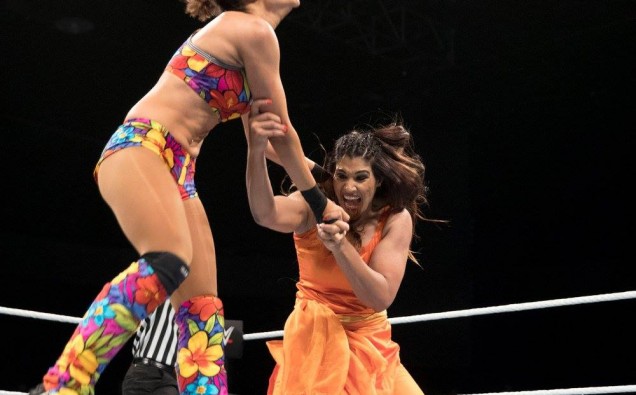 Former weightlifter and MMA fighter, Kavita Devi from Haryana, India, broke barriers by wearing salwar kameez as she became the first female wrestler from India to step into the WWE ring.
Earlier this year, Kavita competed in the WWE Dubai try-out. Due to her outstanding performance, she was selected as one of the 32 wrestlers in the Mae Young Classic tournament.
Competing in WWE's first ever all-woman competition, Mae Young Classic, Kavita fought Dakota Kai from New Zealand in the first round of the competition. Despite losing the match, Kavita won the attention of the fans with her wrestling ability and salwar kameez.
Kavita spoke about her own performance, "I competed at a very high level, in our traditional dress. Girls have been very inspired by my performance. In the coming months, you'll see that girls are lining up to join the CWE Academy in Jalandhar (a city in India's Punjab state). The more people it reaches, the more girls will be impressed and want to travel down this road and make their own mark."
Inspired by famous WWE wrestlers such as The Great Khali, John Cena and The Undertaker, Kavita had never thought about wrestling before. She then attended a local wrestling match, where the wrestler challenged the crowd for a fight. Kavita accepted without even thinking. After that, the Great Khali became her trainer, at his training academy in Punjab.
Kavita was a competitive powerlifter for several years before turning to wrestling.  Her powerlifting achievements include a gold medal in the 75kg category for India in the 2016 South Asian Games.  Despite her experience and success, she felt as if something was still missing from her sporting career. Kavita has now found that in WWE wrestling.
Due to her weightlifting background and the travelling that it involved, Kavita was not a stranger to different cultures. However, it was the wrestling dresses and costumes that she found difficult to adapt to. So instead, she decided to wear a salwar kurta in the ring to represent her Indian culture.
"I wanted to take that first step and show the world that a costume cannot stop an Indian woman from performing on the world stage.
"If you saw me wrestle, I wrestled in traditional Indian attire. Representing Indian culture is very important. My very objective of going there was to pave the path for other Indian girls to go to WWE and ensure that they don't face any obstacles along the way. I wanted to show Indian girls that you do not need the kind of ring gear worn by international performers, to compete at such a level", was Kavita's inspiring message to all ambitious female wrestlers.
"My next target is to become the WWE Women's Champion. Whether it's Charlotte or Sasha Banks or Bayley, whoever it is, I'm training hard under The Great Khali. I want to rule like Jinder Mahal and The Great Khali have. One day an Indian woman will rule as well", Kavita said about her wrestling future.
By Ambreen Mahmood