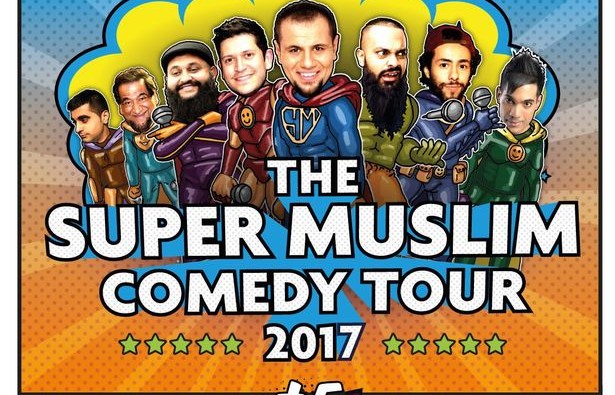 The side-shattering Super Muslim Comedy Tour makes a welcome return for its third successive year in the spotlight. Following on from the tour's 2016 success, this year's iteration of the spine-tingling night of hilarity is hosted across eight cities in the UK, from 24th November to 1st December.
The tour has been organised by Penny Appeal, an international humanitarian charity. All funds raised will support Women's Welfare projects, in which Penny Appeal supports initiatives to help women and girls overcome adversity, from providing support for victims of gender-based violence to providing education to disadvantaged girls.
With a diverse array of comedy styles and unique voices, the Super Muslim Comedy Tour is guaranteed to hold audiences rapt. The charity has lined up 8 world class comedians for the events. Each evening will consist of 5 stand-up acts, hosted by Abdullah Afzal, best known for his role as Amjad Malik in BBC One's long-running Citizen Khan.
Attendees will be entertained by the likes of US comic Mo Amer, described by Rolling Stones as one of the "10 Comedians You Need to Know," Azhar Usman, who appeared on CNN's America's Funniest Muslim special, and Guz Khan, who hosts his own radio show on the BBC Asian Network.
Abdullah Afzal said, "Following on from the huge success of last year's tour, I can't wait to get out on the stage again with my fellow artists and brothers, in aid of what is a fantastic initiative to empower and support women worldwide. Through a great night of entertainment, we can really transform the lives of women around the world; I'm really looking forward to it!"
Penny Appeal CEO, Aamer Naeem, added, "We expect this year's tour to be an even bigger success than last year's. We have some of the best Muslim comedians from the UK and USA, who will have the audience roaring with laughter. This year, we are launching a new initiative centring on Women's Welfare.
"We hope that everyone can come together, enjoy a fantastic night of entertainment, and really help to aid women who lack empowerment and opportunities worldwide. We are sure that with the support of the public, and everyone who comes to this year's comedy tour that we will be able to make a big difference."
The tour will run from 24th November to 1st December, visiting Bradford, Leicester, Manchester, Blackburn, Croydon, East London, Sheffield and Birmingham. Early Bird tickets are priced at £5 until Sunday 12th November, with Standard tickets priced at £10, and Premium tickets, which enjoy seating closer to the stage, come in at £20.
For more information about the Super Muslim Comedy Tour, to buy tickets, or to donate to Penny Appeal, call 03000 11 11 11 or visit pennyappeal.org.