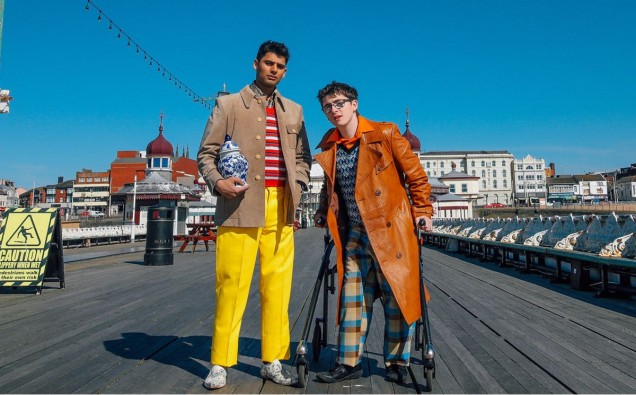 1)    Tell us a bit more about the Synopsis of the film and what kind of experience audiences can expect from watching the film in theatres?
Eaten by Lions is a coming of age film about two half-brothers that go in search of my character's father. Together they travel all the way to Blackpool in the hopes of meeting this vague image of a paternal figure which Omar has imagined. From then on, you see our characters take part in this whacky road-trip, and meet a bunch of crazy people on the way who are played by the likes of Johnny Vegas, Asim Chaudry and Nitin Ganatra, who are obviously some really great comedians.
2)    What was it like being on set and working with fellow cast members Jack Caroll (Britain's Got Talent, Trollied), Nitin Ganatra (Bride & Prejudice, Eastenders), and Director Jason Wingard (In Another Life)? What was the group dynamic like, did you all get on well with each other backstage?
We all got on really well. I think we had to in order to create something really authentic in regards to playing family members especially. Jack and I had a very intimate relationship that had to translate well on screen. In preparation for that I would essentially become his carer; get him lunch on set and spend all day with him just so we could really build up that brotherly bond. And I'm quite positive that was something we were really able to achieve. In regards to the other actors, it was a very collaborative experience. We had a massive opportunity to improvise scenes and sketches and it really allowed some of the comedic performances to shine.
3)    How does your role in Eaten by Lions differ to playing your other characters in Tomb Raider and Skins? The most obvious being that Skins is a drama not a film and Tomb Raider being an action drama instead of a comedy such as your most recent film.
I think cinema is a very different platform to television or even short films. In regards to the character, I think it was something I'd never played before. It was an opportunity to really question my own sense of identity, and I guess find that in another character. Growing up in an all-white northern town I really struggled to see myself represented in the media. I was one of the only brown kids at my school so I could really relate to this character's journey.
4)    You were born in Wolverhampton, England, and moved around the West Midlands as a child in pursuit of developing your skills in local theatre. Was it difficult coming from a small city and getting recognised in the acting world for your talents?
I think coming from outside of London it's very difficult to break into the industry because so much of it is in the capital, including a lot of the agencies and auditions. The main problem I had initially was access to work, which is what really differentiates you from other people in London itself. There's a massive lack of opportunities in the North, especially in the Midlands. Hence, I had to essentially make the move down South in order for my career to progress.
5)    After graduating with First-class honours in English you turned down an offer to attend the Royal Central School of Speech and Drama in favour of leading a national theatre tour of Guantanamo Boy. Can you talk us through this change in direction?
My first love has always been theatre. So, getting an opportunity to actually perform on a stage, take the role of a lead character on a national tour, travel the country, (which I'd never done before as an actor), felt like too good an opportunity to turn down. Any good actor that I'm aware of has begun their career on stage doing theatre, treading the boards as they call it, and I just wanted to take the same leap.
6)    Without revealing too much, can you tell us about your most memorable scene to film in Eaten by Lions?
A memorable scene would probably be one Jack and I have a real visceral and brotherly argument together in a bedsit which is run by Johnny Vegas. It's memorable for me because we had done about twenty takes and the director still wasn't happy because he said it didn't feel real. So, I ended up provoking Jack in order to gain that type of response from him. But, the second we were half-way through arguing the director called action and we went straight into playing the scene, and it just felt like magic.
7)    The bond between the two brothers Omar and Pete is quite humorous and entertaining to watch, which one would you say gets in the most trouble, your character or Jack's?
It would have to be Peter. Pete is a troublemaker by nature as is Jack so he pulls the other brother into difficult situations with his schemes, and it's the same case in real life too!
8)    What kind of response are you expecting from the film once it hits local and national theatres?
I'm quite positive people are really going to resonate with this film because it's about family, love and identity. Especially in a post-Brexit world, I think nothing is more anti-Brexit than a film which promotes inclusivity, diversity and multi-culturalism.
EATEN BY LIONS will be released in UK cinemas 29th March  https://www.eatenbylions.com/
Manisha Bhanot