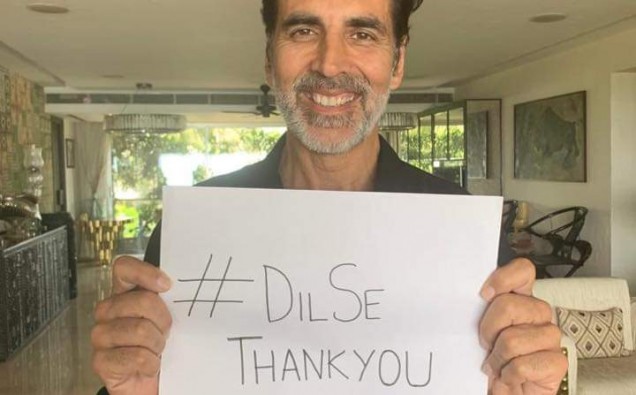 With the world still trying to deal with the impact of the coronavirus outbreak, those who have been risking their lives on the frontline to save others has been one which has seen millions show their appreciation during this time.
One individual who has been leading the way in showing his praise and admiration for these heroic efforts of the essential service providers is international superstar Akshay Kumar, who has released a new song in recognition of the coronavirus warriors.
The #TeriMitti Tribute, which was released on Friday, is an emotional tribute song which is inspired by B Praak's Teri Mitti number in last year's blockbuster Kesari, which starred Akshay Kumar.
Taking to social media to announce the release of #TeriMitti, Akshay Kumar shared the following post with his 39M followers:
"A salute to the brave souls and the real heroes, from us to them. #TeriMitti Tribute, song out now https://bit.ly/TeriMittiTribute…
@ZeeStudiosInt @akshaykumar @ParineetiChopra @SinghAnurag79 @karanjohar @bpraak  @arkopravo19 @manojmuntashir @DharmaMovies #CapeOfGoodFilms @ZeeStudios_ @ZeeMusicCompany @JagranNews"
The song shows the emotional scenes of doctors, policemen and drivers who are working tirelessly to save lives by putting in long and gruelling hours to highlight the efforts going in to fight Covid-19. Akshay Kumar appears at the end of the video with a touching tribute, saying:
"We had heard doctors were the incarnation of God but now it seems God has himself come in the form of doctors."
Akshay Kumar's heart of gold has been one of the shining lights during one of the world's darkest periods. This has included an incredible donation of Rs 2.5 crore (£2.5 million) to Prime Minister Narendra Modi's PM CARES FUND as well as getting some of Bollywood's biggest names to join him for the song #MuskurayegaIndia to raise spirits across the country.