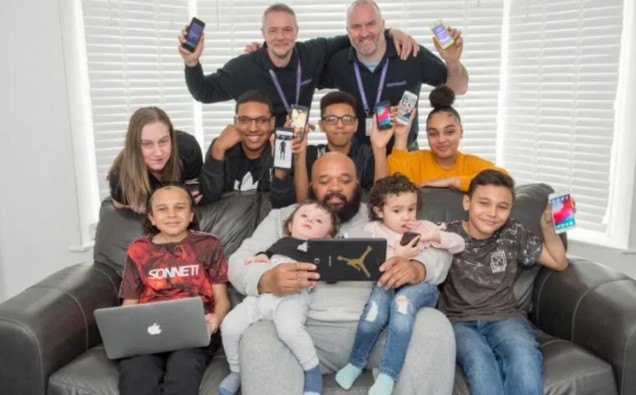 Dad of eight Shaun Duffield and his family enjoying his new ultrafast broadband connection. Engineers Danny Parkin and Dave Scargill (back row) helped connect up Shaun's Leeds home are at the back of the shot. 
 More than 1.2 million homes and businesses across the country now have access to faster, more reliable and future-proof Fibre-to-the-Premises (FTTP) broadband services over the Openreach network. 
The milestone, which has been reached just over a year since the digital infrastructure company announced its 'Fibre First' build programme, means Openreach is on track to reach three million homes and businesses with 'full fibre' broadband by the end of 2020. 
Since the launch of Openreach's Fibre First build programme in February last year, its engineers have deployed around 2.6 million kilometres of fibre– enough to travel to the moon and back three times. The massive engineering project has involved a dedicated team of around 2,000 fibre engineers, using hundreds of heavy plant machinery, pole erection units, cherry pickers, mini-diggers, 3,000 spades and a small fleet of drones. 
To celebrate the one million milestone, the company is funding one year's free broadband connectivity to the millionth home now able to order over its 'full fibre' network.[1] 
Our engineers broke the news to lucky recipient Shaun Duffield, when they arrived at his home in Leeds to connect him to our network. 
The delighted dad of eight said; "Getting fibre broadband has made a massive difference already but being able to get it free for a year is brilliant news. 
"With a family this size, getting online at the same time with our old broadband was just impossible, there was constant arguing and moaning. But since the new fibre was switched on I've not heard a peep out anyone." 
Carer Shaun, who reckons the family have more than 20 online devices between them, including gaming consoles, smart TVs and smart phones, added: "Our old broadband service used to lag and freeze as soon as more than one person tried to download or stream anything. But now it's amazing, everything is instant, no matter how many of us are online at the same time or what we're doing." 
Openreach has doubled its FTTP footprint in one year and continues to ramp up the build – making the technology available to more than 14,000 new homes and businesses every week across the UK. 
Openreach continues to heavily invest in both its network and people to drive is fibre broadband ambitions and has already recruited close to 1,400 out of the 3,000 trainee apprentice engineers hires announced in January for this year, having received more than 44,000 applications in just three months. To support the new intake, a new training school will open in Swindon next month – one of 12 new regional fibre training centres. This will support our expansion in Exeter and the West Country; with Salisbury our first city to gain universal access to full fibre. 
Minister for Digital Margot James said: "The Future Telecoms Infrastructure Review set out our approach to maximising full fibre coverage, and I'm delighted that Openreach has now reached one million homes and businesses. Significant investment like this from network operators is critical to deliver our plans for nationwide coverage, and we're working with industry and Ofcom to create an environment that supports and encourages the commercial rollout of full fibre broadband." 
Clive Selley, Chief Executive of Openreach, said: "Our full fibre build is speeding ahead and we're now ready to connect more than a million consumers and businesses if they decide to order from a service provider that's using our FTTP network." 
[1]Openreach will fund the cost of the customer's chosen FTTP broadband package to include monthly charge inclusive of line rental for one year. 
[2]Openreach has committed to publishing information on its website detailing its build plans for the next 12 months – including the total number of exchange areas to be reached in each location over the next 24 months. The company will update this information every three months