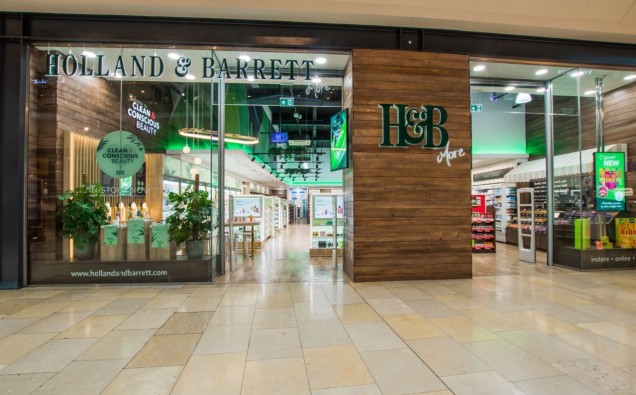 Holland & Barrett to launch

 its

 

first ever 'clean & conscious' beauty concept store

 next month

 

The 

n

atural beauty dedicated concept space will be trialled at their 

NEW

 Birmingham Bullring Shopping Centre branch

 
In addition to the concep

t launch, Holland & Barrett will be 

expanding their online beauty offering with over 900 

new 

lines 

added, 

including Ren, Evolve and INIKA Organic

 
Following huge success with their sustainable launches and initiatives last year, including the ban of wet wipes and introduction of Zero Waste beauty ranges, leading health and wellness retailer, Holland & Barrett, are meeting the growing demand for more 'clean & conscious' beauty with the launch of their first ever beauty concept store.   
The retailer has sourced a staggering 900 x new beauty lines from the most clean and conscious brands around the world, including an array of new natural and vegan skincare products from pioneering brands such as Ren, INIKA Organic, Ilapothercary, Evolve, Hanna Sillitoe and This Works: all to be housed at the Birmingham Bullring store and available online. The concept store will also boast an experiential sink area for live product demos and a Faith in Nature refillable station, where customers can bring in their empty Faith in Nature bottle and refill with a product of their choice. 
Holland & Barrett's Beauty category director, Joanne Cooke says: "We are extremely excited to be trialling this new concept and to bring our natural beauty brands to life for our customers. Experiential stores are a growing trend globally to encourage footfall on the high-street and are becoming an important part of a customer's overall retail experience. At Holland & Barrett we are passionate and committed to providing our customers with an exciting and broad selection of natural beauty brands and products that meet all of their clean & conscious needs." 
As a continuation of their mission to remain the leader in natural beauty, the chain want to engage both loyal and new shoppers with their exciting beauty offering in a more innovative and interactive way. Typically known for their natural remedies and health categories, the vegan movement that is taking over the UK's shopping habits has allowed their expertise in this field to make them the number one destination for all your natural lifestyle needs. 
Who are the hero brands? 
Ren Skincare 
Clean is at the heart of everything Ren do… But what does it mean? For them it's giving you visible results from skincare that isn't full of shady ingredients. Ingredients that work with your skin, without causing irritation. Ingredients your skin would choose, from sustainable sources and sustainably packaged. 
INIKA Organic 
INIKA Organic is 100% Australian owned and were born out of a need to detox. Conscious consumers were already removing harmful chemicals from their homes and diet, replacing them with wholesome, pure and natural alternatives. When it came to makeup, there wasn't a healthy option. A pioneer in Certified Organic ingredients and healthy beauty, INIKA delivered that and more and quickly gained a loyal following. 
This Works 
This Works pride themselves in having a conscience as clean as their formulas. They only use high-grade 100% natural botanical oils, which are carefully selected for their therapeutic benefits and skin compatibility to ensure optimal efficacy and experience. In combination with these botanicals, they use active ingredients inspired by nature and rooted in science, what they like to call 'nature's lab' 
Evolve 
Evolve Beauty products are lovingly handmade in small batches at the brands studio in Hertfordshire, England to ensure the freshness of the precious antioxidants in the natural oils, butters and extracts. Their products are vegan, cruelty free and eco-friendly. 
Ilapothercary 
Ilapothercary products are infused with powerful remedial ingredients, to counteract urban stressors, environmental and digital pollution, mental stress, hormonal imbalance and body fatigue. 
Created for the busy, modern woman, man and family, Ilapothercary products uplift, nurture and balance mind, body, skin and soul; help calm the nervous system, strengthen, hydrate and heal. 
There will be lots more exciting newness from brands including, but not limited to, PHB Ethical Beauty, Lily Lolo, Dr Organic, TanOrganic, Noah, Lavera, K beauty brand Huanjisoo and Dr Bronner.