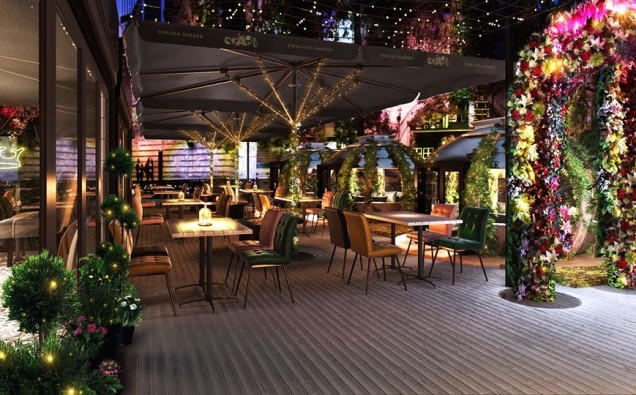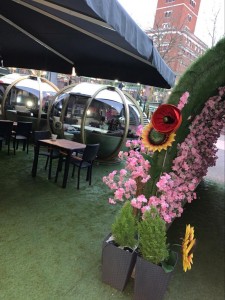 Craft is created with traditional British dining etiquette and exceptional style in mind. With a range of chic and stylish dining areas accompanied by unique modern finishes, each venue forms an ambient atmosphere incorporating timeless family values with excellent food and drink.  
Guests choosing to dine with Craft can select from a variety of seating areas to accommodate them during their lunchtime or evening meal. A contemporary garden featuring a romantic tunnel of love and delicate flower arrangements, as well as opulent and chic dining pods are available if visitors choose to dine outside. Inside, the restaurant features a glamorous floral bar area, glass walls and chandeliers, as well as marble top-dining tables with elegant cushioned seats.     
Craft's set menus incorporate seasonal vintage dishes with innovative twists. Expect fantastic tastes created to evoke nostalgia and memories from past mealtimes. At the same time, sample new dishes and flavours that will stay with you and have you returning to Craft again and again.  
The dining room menu is led by pioneering Chef Andrew Sheridan, who has formerly been named 'North West Chef of the Year' and reached the finals of BBC Great British menu in 2018 and 2019. He has been applauded consistently for his creative and personalised approach to cooking, which is embedded in the restaurant's name 'Craft' itself. 
Everything at the Restaurant is hand-picked and crafted to perfection; from the home-grown food to the tasteful décor and rich ales and spirits. The UK has over 500 vineyards in England and Craft has selected over 100 different wines into its dining areas. Discover the best in ambience and the best in taste when you dine with Craft. Choose from mouth-watering dishes such as mushroom and truffle tart, cheese and onion crisp, soft monkfish and creamy chicken broth.  
To book yourself a table or sample their tasting menu, head over to weare-craft.co.uk today. 
 By Manisha Bhanot