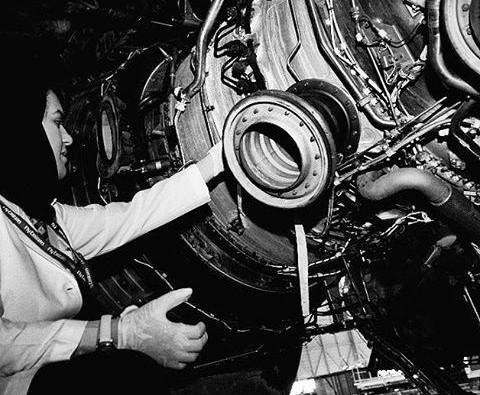 Women are now no longer behind men, they are succeeding in every profession and field with their careers. From the older days till now there is a statement which is still believed in the minds of the people i.e. "Aviation is a male dominated industry" and it's somewhat true.
When you enter in the airport will find more women working as flight attendants or as a ground staff. But as aviation is expanding globally, they have opened the path for women, providing them with different programs like CRM seminars & training sessions, motivational and development programs etc. But there are many challenges which are more often faced by females rather than males in this industry like motherhood, personality traits, financial & cultural factors and much more.
I came across some of the female pilots and aircraft engineer whose stories are quite difficult, but have not lost hope to work in the field and have faced these challenges with immense determination. Let's talk about their views on this topic.
Captain Maria Cristina Maldonado –
Maria Cristina Maldonado is from Colombia, South America. She is the First Colombian Female Pilot who flies in Vietnam and one of the first Latin American female Pilots in Asia. She has been a commercial pilot since 2007 and upgraded to a Captain in 2017. She is married and is a mother of three kids.
Her Views on the Topic are –   
Men and women have the same ability; there is no difference in terms of professionalism between both the genders. I do not get scared by working surrounded by men, it's my usual environm­­ent and they respect my professional behavior in the cockpit.
The industry is a different place where it was ten years ago. Airline industries are being managed by women nowadays but still 94% are leaded by men. Women in aviation have risen along the roles from commercial all the way to operations in the industry.
When I was a little girl, boys played with cars and my friends with dolls. I played with airplanes and had a clear vision of what I wanted to be. In this career it's a big challenge to become a mother because you have to stop due to maternity leave which sometimes can last for two years since you get pregnant but once ready you regain your training and get up to date to continue flying. At the end of the day you adapt and strike a balance with your family life.
Suaad Sultan Alshamsi (Aircraft Engineer)
(Instagram A/c – suaadalshamsi ) –
Suaad Sultan Alshamsi is the first UAE female aircraft engineer and a senior manager in Abu Dhabi new airport. She is an aviation lover, dreaming about aircrafts and eagerness to become part of aviation field from childhood.
Her Views on the Topic are –
Aviation has been a male dominated environment. Male have since tried to teach females the secret to grow the aviation industry & continue beside him. Now it's no more a male dominated industry, it is a field where both males & females can work equally.
Sharing my personal experience about the challenges which I faced while becoming an aircraft engineer was, when I graduated and announced as the first UAE female aircraft engineer, people thought negatively and talked randomly that I will never get married, they were trying to attack me emotionally. But I didn't want to change my career so I continued to work and ignored them. And now I am married with two adorable kids.
It's almost tough, difficult to maintain and fly with time in each shift, away from your family sacrificing your social life but if women love her work what she is doing then it will create new opportunities rather than challenges.
Pilot Susanna Sundberg -
(Instagram A/c – susythepilot)
Susanna was born in Sweden and is working as an Airbus 319/320 pilot in Belgium for Brussels Airlines. She started her career in 2001, working as a flight instructor and Operations Officer. In 2014 she moved to Belgium and started working for Brussels Airlines. She flew over to Europe and also Northern Africa.
Her Views on the Topic are –
I think it is important to realize that the job as a pilot is just as suitable for women as for men. I never noticed any differences and I have never been treated differently. Besides the role to safely transport our passengers we also act as representative for our Airlines. Since we are quite few female pilots in the world (5- 10 %) we can also inspire other women to take up a career in aviation. The most important is that we focus on who is suitable for the job, not if it is a man or a woman.
The most challenging part for me is to balance work and raising a family. If you have children it might be very difficult to spend a lot of time away from home. During my first week at work I could only spend one night at home and I had only a few hours to see my 10 months old daughter. She is very well taken care of by her father but it was still difficult to leave them behind.
Captain Eser Aksan Erdogan
( Instagram A/c – echosierra85 )
Eser Aksan Erdogan is a 33 years old airline Captain pilot flying Boeing 737 for around 05 years. She was born in The Netherlands and is based in Istanbul.
Her Views on the Topic are –
When I first started flying I was the only girl in my class during flight school. The gender gap between male and female is still there, only around 6% of the airline pilots worldwide are female.
As in all male dominated industries there are always some men who think women don't belong there, the first time I flew with a female captain, the men were joking about that we shouldn't gossip and do make up in the cockpit… that was only 4 years ago. If you have a passion to do something then no matter what challenges come in your way, you cross them and live your passion.
On behalf of Asian World Newspaper I would like to thank all of you for sharing your views with us and giving me your interview and taking out time from your busy schedule.
By – Rida Khan (Aviation Author)
(Instagram A/c – aviationauthor.ridakhan )