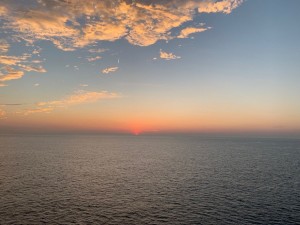 The Voyage Ahead 
Cruising the seas in a colossal 16 deck ship, with over 700 balconies, gourmet style dining and captivating live entertainment available on board. This divine setting was my home for 7 days whilst we set course for the most enchanting land excursions in Europe, and Cruise Critic's 4.5/5 star rated vessel certainly had a lot to offer.

 

Indeed, Sapphire Princess looked to be the height of felicity. The rolling waves lapped calmly on the port side of the boat as she was safely secured at her berth. Its many intricate decks and stairwells seemed to lean upwards in an attempt to touch the clear, blue sky. The port remained calm as sea buoys bobbed in the water and pelicans cut across the waves. Many of the ship's guests seemed anxious to board and start their weeklong vacation of a life-time!

 

As we climbed on-board the cruise liner in the British port of Southampton, the embarkment process was made to be simple and easy. All guest luggage was deposited by the check in desks and taken straight outside of our cabin doors ready for us to unpack. We were left to find our sea legs and explore the ship at our own 

leisure

. Sapphire Princess departed from the Elizabeth Terminal II at approximately 4pm and set course for the English Channel.

 

We had booked in for a 7 night all exclusive trip starting from Southampton, which is roughly just a 2-hour cab ride from Birmingham city. Our week long itinerary included two full days of sailing, half a day in the Belgian city of 

Bruges

, a day in the Danish capital of 

Copenhagen

 and 2 

full days in Oslo, Norway as well! 

Sapphire Princess has a range of comfortable staterooms and suits. We had an interior cabin on Deck 10

, which was furbished in a modern and 

spacious way with two wall

 mirrors and numerous ceiling lights. The room had two twin beds, a desk and 

an 

armchair, with walk-in wardrobe space and a private bathroom plus shower. Our quarters also came fully equipped with a secure safe, refrigerator, hairdryer, kettle and tea making supplies, 

as well as

 a flat screen tv 

pre-

downloaded with a range of films. 

 
Sapphire Princess 
The Sapphire Princess was truly a 

stunning

 ship 

and felt like an indulging second home. On-board were a range of facilities and occurring events to satisfy your every whim. 

These included both indoor and outdoor swimming pools, 

j

acuzzis

, 

a sauna, 

hair salon, 

fitness centre with gym equipment, and the luxurious Lotus Spa. I

 personally chose to spoil myself with 

a 50

 

minute long

 h

ot stone massage, which included a food cleansing and gentle exfoliation. Shout-out to my amazing masseuse Tina 

who helped to ease the tension in my lower back!

 

On the lower decks of the ship were high-end 

jewe

l

l

e

ry

, clothing and accessory shops. There were also lounges and bars with live-night time entertainment, a café, art gallery and piazza where a professional pianist and violin duo would perform every evening. On the upper decks of the ship was a theatre with new and alternating performances every night, varying from song and dance, 

standup

 comedy, and even classic opera. There was also an impressive casino

, outdoor movie venue and a youth centre with board games, fosse ball and table tennis equipment. So, whatever your age range, you would be sure not to spend a moment of boredom on your journey! 

 
The Sapphire Princess 

is also ideal for foodies and has been awarded the 'Best Cruise Line 

for

 Food Lovers' by 

Food & Wine Magazine

. 

The cruise liner featured a range of eating options including anytime dining, traditional dining, as well as a pizza and burger 

station at the Trident Grill

. Our traditional dining time was 7pm and we were designated to the International Dining Room where we had our own table reserved for us each night. Guests chose to attend in formal wear with their friends and families for a scrumptious three course meal from a set menu. The service and cuisine were both excellent. 

A special thanks to my waiters Anas and Gilbert for taking special care of my Vegan dietary requirements! 

At 

Horizon Court, we could choose our meals from an endless and 

ever-changing

 selection of dishes, including hot soups, fresh bread rolls, fruits and cheeses with Italian pastas and desserts galore.

 
Land Excursions 
The first stop on our sailing adventure was the 

port city of Bruges, which is also the capital of the Province of West Flanders in Belgium. 

We awoke with the ship docked on a warm and sunny day of around 21 degrees. We paid for a coach to drop us of close to the city centre, which we could either explore by foot or by one of the many horse and carriage rides which were on offer. Bruges is especially distinguished by its medieval architecture, cobbled streets and many winding canals, which are marked by scenic bridges and have their banks dotted with dozens of nesting ducks and swans. 

There is much to do and see inside the city, we opted to visit the exterior of The Church of Our Lady, and stroll 

through 

Bruges's

 narrow streets

,

 taking a look at the towering buildings and many 

cozy

 corner shops at our own pace. 

 
A couple of days after we arrived at the Danish Capital of Copenhagen. The North Sea is known for its turbulent weather conditions and strong winds so we made 

sure we were properly wrapped up! Before disembarking, we had paid for an excursion tour through Princess Cruises, and so we were briefly shown much of 

the popular sights and hot spots of the city by bus. This included being dropped off at the famous mermaid statue by the pier, and being shown around the grounds at the Danish Royal palace! 

Some other notable sites to see in Copenhagen include the New 

Harbour

, 

Tivoli Gardens and 

Rosenborg

 Castle. 

 
The last placed the Sapphire Princess docked at was Oslo, the capital of Norway. 

As the ship began its approach to the 

fjords, we were greeted by breath

taking views of rolling green hills, and the waving crew of small yachts and sailboats who looked up at our ship's balconies while we passed by. 

Since we were anchored at Oslo for two 

days, there was much to see and do. At around 5pm on our first day at the city, the ship pulled up alongside the markets opposite 

the Opera house. We spent our time there exploring Oslo Cathedral, the Royal Palace and Gardens, the 

Akershus

 Fortress, and the 

Historisk

 Museum, which is home to many artifacts symbolic of the region's Viking heritage. 

Oslo is a prestigious and cleanly capital, famous for its green space

s and over-flowing fountains. The city

 is also a great place for shopping lovers due to its many hi

g

h-end stores and clothing boutiques. 

 
Au Revoir! 
From beginning to end, our travelling party had a magical time on the elegant Sapphire Princess. We made some unforgettable memories and were thoroughly impressed with 

how smoothly the cruise went and the well 

organised

 demeanor of all of the crew. We watched some mesmerizing sunsets at while on board the ship, and hope to see many more in the near future. We can't wait to sail with Princess Cruises again sometime soon!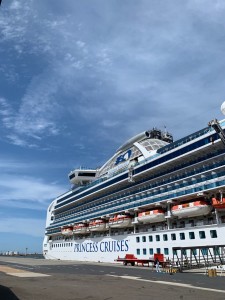 By Manisha Bhanot