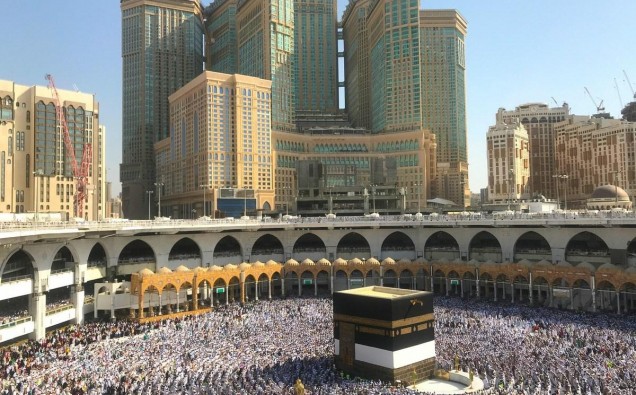 Every year a large number of Hajj/Umrah pilgrims, including the elderly and sick, suffer from mental anguish and trauma as they get lost in the huge complex of the Grand Mosque and large crowds in and around it. They struggle to find their way back to their hotels and accommodation; due to language barriers they are unable to communicate with others to ask for directions. Unfortunately, little help is available around the Grand Mosque for these pilgrims. Similarly, after the stoning at jamarat in Mina, returning to the camps is an uphill struggle for a substantial number of pilgrims. Searching for the lost pilgrims also causes great distress to their family members and loved ones. 
Association of British Hujjaj (Pilgrims) UK, a national Hajj/Umrah-specific organization working for the welfare and wellbeing of pilgrims— urged that the Kingdom should take appropriate action to address this serious issue.  
There should be an information centre (booth) around the central area of the  Grand Mosque to answer any queries as well as provide guidance and help to lost pilgrims. The officials deployed in the information centre should be multilingual, and should be equipped with computers which carry all relevant information of the Makkah hotels and other residential areas. All roads and streets in Makkah should be clearly signposted.  
Pilgrims should be made aware of the infrastructure of Masjid Al-Haram, details of its entrance doors, the facilities available to them and contact details of officials in case any pilgrim needs assistance. A map of Haram and surrounding areas including hotels and accommodation should be made available to all pilgrims. This will help protect them from getting lost and make their movements stress-free.  
Similarly, appropriate arrangements should be made for Mina. It is important that the multilingual staff should have relevant training to guide lost pilgrims towards their camps. Clear directions to all the camps should be signposted so that returning pilgrims have guidance towards the camps. A map of Mina should also be produced, providing the pilgrims with the location of all camps.  
It is important that the Kingdom take appropriate action and make efforts to improve conditions for Hajj/Umrah pilgrims so that they may perform their religious obligations in peace and harmony.