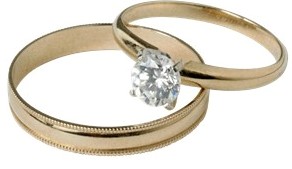 The Knot—the nation's leading wedding planning and registry resource—reveals 10wedding details to anticipate for 2020 celebrations. Couples marrying in 2020 will place a greater emphasis on intentional and deeply meaningful personalisation, as well as on creating an inclusive experience for attendees. To-be-weds are also putting sustainability at the forefront of their festivities through creatively upcycling décor, jewellery and attire details. In addition, couples consider the full culinary experience along with any guest dietary restrictions, opting to craft food and beverage menus that are fully inclusive for all guests to nosh on happily throughout the event. 
10 WEDDING DETAILS THE KNOT IS LOVING FOR 2020 
Eco-Conscious Couples Seek Sustainability in Their Wedding Details. Sustainable weddings are on the rise. While some couples are committing to zero waste or a reduced carbon footprint as they plan their celebrations. Couples are asking caterers to provide reusable drink straws. A lighter version of this includes repurposing florals and décor from ceremony to reception.  
Couples Craft Inclusive Menus and Present Food With Interactive Elements. Menus will check all the boxes in 2020—whether you have guests who are vegan or gluten-free, couples have all their guests' dietary needs covered. Creative menus with a variety of customisable offerings allow every guest to enjoy the culinary experience regardless of dietary restrictions.  
Guests Are Serving Themselves at the Bar. We're not talking about a cooler full of cold ones.. Self-service drink stations with wall-mounted dispensers and margarita bars with all the mix-ins allow guests to serve and garnish their own drinks throughout the night. It's one less bartender and one more personalised choice that also serves as a photo-worthy moment for guests. 
Lighting Makes Celebrations Shine. Bold lighting helps set the wedding vibe. We're loving how creative couples, designers and planners are incorporating new types of lighting not typically associated with weddings into their décor. From bold LED cocktail bar fronts, which empower couples to customise their hues, to tube lighting draped on ceiling beams and the creation of a visually interesting statement.  
From the Décor to the Drinks, Florals Are Used to Make Bold Statements. Florals are going beyond the bouquet as couples use edible blooms in salads, ice cubes, water infusions, on top of desserts, drinks and more to elevate virtually anything at their celebration. Couples are also exploring floral textures and shapes for a monochromatic look.  
Live Entertainment and Experiences: The Amenity Basket Upgrade. Think of this as the most #extra amenity basket: Instead of just treating guests to hair spray and mints in the restroom, couples are stationing magicians, interactive make-your-own scent bars, and champagne stations in lounges just outside the restrooms to ensure the party doesn't stop, even when you leave the dance floor.  
Couples Use Wedding Fashion to Showcase Personality and Attire Preferences, Favoring More Fluidity in Fashion Choices. Couples are seeking fashion that fits their personal style. We're seeing to-be-weds explore attire outside of convention: rocking jumpsuits; opting for pops of colour; exploring textures; incorporating showstopping embellishments, exaggerated sleeves and bold ball gowns.  
Barrettes and Combs Are Having a Moment. Veils aren't going anywhere, but tiaras have given way to the latest in hair jewellery—barrettes and combs. These accessories are often adorned in pearls, rhinestones and colourful enamels. They're great for holding back natural curls or creating a second style for your reception. 
Wedding Registries to Last a Lifetime. Couples are using their registry to share more about their future plans together, as well as their values and interests. Couples also look to beloved pop-culture moments to inspire registry asks, such as flights to Europe or New Zealand to explore where Lord of the Rings or Game of Thrones was filmed, or walking tours in NYC to check out scenes and mementoes from Friends and Seinfeld.  
Unplugged Honeymoons. While the majority of couples (93%) rely on their smartphone to plan their wedding, when it comes to their ceremony, nearly one in three (29%) ask guests to limit the use of their phone—a trend that continues to gain momentum. Couples are now opting to follow their own rules, unplugging for their entire wedding day, as well as on their honeymoon.