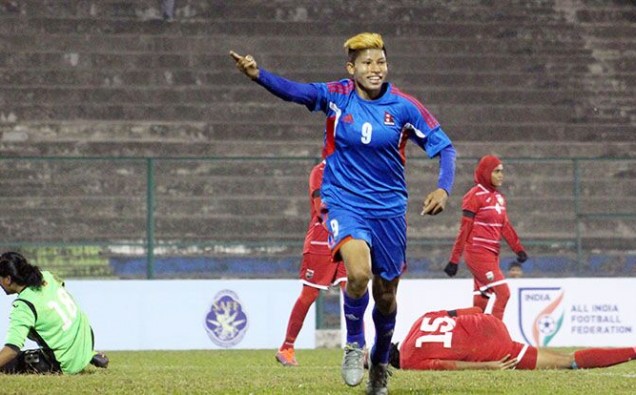 Footballer proved her credentials in the Indian Women's League 
Sabitra Bhandari has begun to enjoy success and popularity as she's regarded one of the best female footballers, not only in Nepal but in the whole South Asia region. Following the Indian Women's League with Sethu FC where Bhandari (popularly known as Samba) impressed many with her performance, she also reached number two on the all-time highest scorers list. 
Hari Khadka, the head coach of the women's national team, described Samba as the backbone of the squad. At the Women's SAFF Championship in Biratnagar, Khadka stated, "She is definitely the best footballer in the region, and she has every potential to go beyond South Asia."   
Although Nepal finished as runners up to five-time champions India in the tournament, Samba has still scored in every match of the tournament including the final. Samba proved herself in becoming a successful footballer through her dedication for the sport. However, this wasn't something that came naturally for her as she grew up in a remote village of Lamjung, where sports were only open for boys and men, however, she managed to beat all the odds, and in 2014 she made her first national team debut. 
In the Women's SAFF Championship, Samba had scored 30 goals in 28 matches and has won almost all tournament titles with the Nepal APF Club. Due to her popularity on and off the pitch, she has also been nominated for the People's Choice category of the NSJF Pulsar Sports Award. For this, she will be going up against volleyball star, Rashmi Bhandari, Cricketer Sandeep Lamichhane and bodybuilder Maheshwor Maharjan.  
Navkiran Bains.