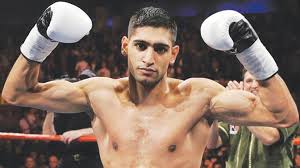 Amir 'King' Khan and Kell Brook have been undecided for a while as to if a huge domestic fight between them will take place. However, promoter Eddie Khan is committed to still scheduling a match between the two boxers.  
Both ex-world champions were previously unable to set a match day due to disagreements over the date and location of the fight. The two were supposed to face-off in Spring of this year. However Amir cancelled and chose to challenge Terence Crawford in the ring instead, where he ended up losing. 
Brook seems to have the odds contested against him, as he has not been in the ring since December of last year when he fought Michael Zerafa. Whereas Khan amazed by blowing away Billy Dib in four rounds in July.  
"I still want to make that fight. I'll give it one more roll of the dice," said Hearn. 
"I will tell them: 'Guys, spring 2020, let's do it'. 
"Hopefully we can get it over the line." 
Khan has talked about settling his score with Brook a few days before his last fight. If Brook agrees to the match, it will take place within the first half of next year. However, it was only recently that brook was forced to deny claims that he has gone into retirement, despite the speculations surrounding his boxing career.  
In a statement to pepTalkUK, Amir commented about the possibility of the upcoming fight: "I think it's a great idea, definitely. 
 "We are both similar age, I think it's a fight that we've been trying to make for a very long time and I think it's getting very close to it now. 
"I've worked with Eddie Hearn for a couple of my previous fights and I think going back and working with him on this fight against Kell Brook will be massive."