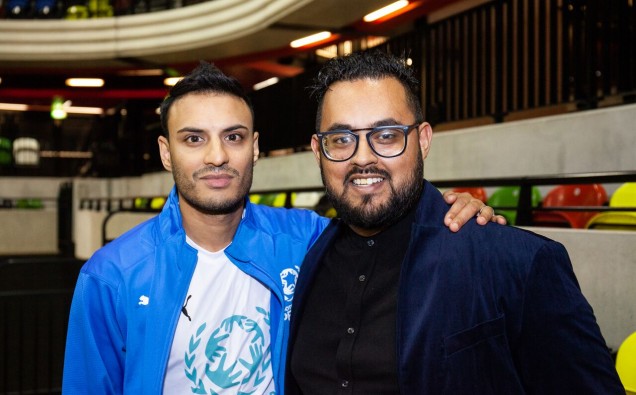 Altus Football expands to Birmingham and Derby in 2019 following a successful pilot in Bradford and East London last year

 

Obayed

 Hussain, an Imam and founder of the 

Saltley

 Stallions Football Club, is to lead the Birmingham team to the final at St George's Park

 
This initiative founded by professional footballer 

Kashif

 

Siddiqi

, Altus Football seeks to break down barriers to local community participation in sport

 
International charity, Kashif Siddiqi Foundation (KSF), is proud to announce the launch of Altus Football in Birmingham following a smaller successful pilot campaign which took place in Bradford and East London at the beginning of 2018. Due to popularity, the initiative is returning to both locations and now expanding to Birmingham and Derby in 2019 with the goal of increasing participation in sports amongst local communities. 
The eight-week project for young budding footballers combines weekly training sessions with coach-player mentoring, promoting teamwork, discipline and leadership, to empower young men with valuable life skills. More broadly, the initiative seeks to tackle the cultural divides and barriers which prevent many unrepresented communities from getting involved in sport and bring the diverse diasporas in Birmingham together.  
The second season of Altus Football will be led by professional footballer, Kashif Siddiqi, in collaboration with Obayed Hussain, an Imam and founder of the Saltley Stallions Football Club, who was brought on to coach the Birmingham team.  
The weekly training sessions kicked off at the beginning of February and will run into March before culminating in the final at St. Georges Park the home of the England national team at the end of the month.   
Obayed Hussain, who co-founded the UK's first Ramadan Midnight Football League in 2018, said:  
"Altus Football enables the different communities of Birmingham to come together on the football field to share their passion and enjoyment. It also provides a support framework for young people that lack a sense of belonging and purpose. I am proud to be supporting and helping to run this project, which builds stronger communities. Football has the power to do good, helping unify and facilitate social change, which is something I am extremely passionate about and have been doing for many years in Birmingham."   
Kashif Siddiqi is one of only eleven British South Asians to have made it in the professional ranks in the UK, having previously played with Northampton Town and Arsenal. He hopes that by harnessing his own experiences and utilising the expertise of coaches and ambassadors of the campaign, he can make a difference in the lives of young men across the UK and build healthier communities. 
Kashif Siddiqi, founder of Kash Siddiqi Foundation and Altus Football, said:  
"I am really excited to be joining forces with Obayed. His work in the Birmingham community has been inspirational and we hope to help continue that in bringing Altus Football to the area.  
"Just as football has brought Obayed and I together in our work we can see the extraordinary capacity of football to unite people the world over. More than 3.5 billion people watched the World Cup in Russia last year, so it is clear to me that whatever our background, race, religion or ability, football has the power to bring people together and transcend any divisions in the community." 
For further information, visit www.altusfootball.com.