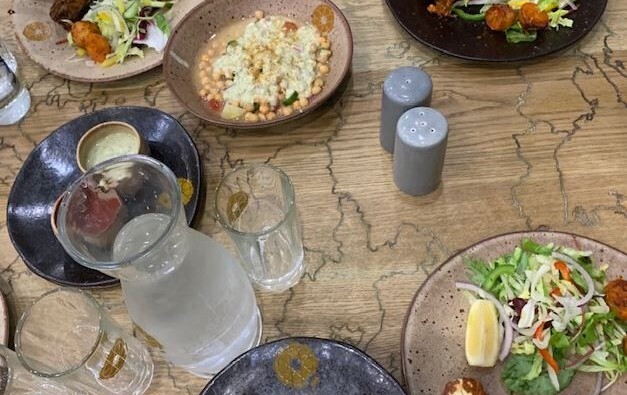 Enter a world of flavours from the Middle-East when you visit Alam Restaurant, Coventry Road, in Birmingham. 
Situated in one of the UK's largest Somali communities, the name of the restaurant is a translation from the country's native language, meaning 'world' or 'globe.' The venue lives up to this universal theme. Each seating area is named after a specific country or place, whose map is engraved carefully on the every table top. The inside of the restaurants is also allocated with many aesthetically pleasing scenes and arrangements. From the ceiling hangs a contemporary spherical chandelier. To the left of the reception is a delicate and blooming artificial cherry blossom tree. Towards the back, you'll find an engraving in Arabic taken from the Holy Qu'ran: 'So which favours from our Lord will you deny?' 
The restaurant menu incorporates a range of appetizing starters and main courses; including the likes of mouth-watering curries, meat dishes, Italian pastas and grilled burgers. Some of the dishes we had the chance to sample included Mediterranean cheese, lamb sheikh jebab, masala chick peas and marinated king prawns. The majority of the dishes we began our three-course meal with came alongside a side of green fresh salad and spiced potatoes. Some of the Alam specials which we ordered from included delicate cuts of well marinated steak, chicken on the bone cooked in tomatoes, onions and coriander, accompanied with steamed rice and naan. For dessert; freshly made cakes are ordered into the establishment twice weekly, served with sweet fruits and scoops of ice-cream. Vegan cheese cakes and vegetarian options are also available. 
Alam also holds a balcony seating area for evening meals and drinks. Their restaurant garden features outdoor fires and lighting fixtures such as LED tulips and teacups, to create a calming and tranquil ambiance. The entire restaurant capacity is for around 240/50 guests, and the site also holds an upstairs hall for the use of mehndis, nikkas and other marriage events. Alam is a strictly no booking restaurant, all guests are given tables at a first come first served basis. For more information on menus and opening times, visit www.alam-restaurant.com 
By Manisha Bhanot.