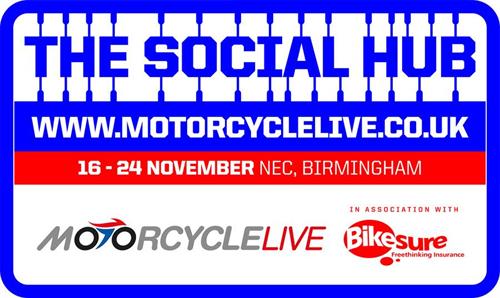 The UK's biggest motorcycle show is offering visitors the chance to meet their favourite Moto-vloggers and bloggers at Motorcycle Live 2019, in association with Bikesure Insurance, in the dedicated Social Hub, Hall 4, stand 4E05.
Launched at the show for the first time last year, the Social Hub gave visitors a chance to meet social media personalities in the flesh and chat face-to-face, making social media, social.
Throughout the course of the show, motorcycling social media personalities from YouTube, Instagram, Facebook and Twitter will be chilling in the Social Hub waiting for you to visit.
Each person has the chance to use the space for whatever they like, such as Q&A sessions, competitions, free giveaways and much more – so keep an eye on their channels to find out more about what they have planned.
With hundreds of thousands of subscribers, followers and likes between them, check out the proposed schedule below, and be sure to keep an eye on Motorcycle Live social media channels and www.motorcyclelive.co.uk for any changes or updates:
Saturday 16 November - Duke Blade and Motobob
Sunday 17 November - rubyrides and thechroniclesofclaudia 
Monday 18 November - UsernameKate, biker_jen and R1Liz
Wednesday 20 November - On Yer Bike presenters: Kevin and Paul
Friday 22 November - RichyVida, ernestgonzaga and TaliaandScotland
Saturday 23 November - ForTheBold, Jish, and RichyVida
Sunday 24 November - Courtneyscarlett and TheVikingBiker
Advanced tickets are on sale now, priced at just £19.50 per adult, £12 for Seniors, £1 for 6-16 year olds*. Did we mention it's FREE for children aged five and under**?
Plus, for the second year, there is also a £25.00 advance ticket, which includes entry to the show and an Oxford Products Secure HD Max disc lock worth £25.00, which is collected at the show.
New for 2019, car parking has been subsidised with advanced car parking £10 and £12 on the day. As always, Motorcycle parking is FREE.