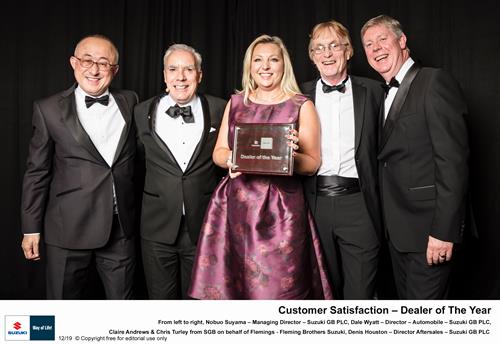 Suzuki GB PLC has named this year's winners of its annual Dealer of the Year awards. The prestigious ceremony, held on the Spanish island of Tenerife, recognises the achievements of retailers from the past 12 months.
Prior to the event, all dealerships within Suzuki's nationwide network were evaluated using the same criteria to determine the regional, national and customer service winners. They were assessed on the percentage of target sales achieved, the finance penetration percentage, the Sales Customer Satisfaction Index (CSI), the Service CSI, the number of parts sold, and the quantity of accessories sold and returned. The figures were then aggregated on a balanced scorecard to reveal the top dealer in each of the categories. Trophies were presented by Suzuki GB's Managing Director Nobuo Suyama, Director of Automobile Dale Wyatt, and Aftersales Director Denis Houston.
Six businesses received Regional Dealer of the Year awards. They were C & M McDonald Suzuki (Aberdeenshire), Luscombe Suzuki Leeds (West Yorkshire), Ludlow Motors Suzuki (Shropshire), Leslies Suzuki (Isle of Wight), Levoi's Suzuki (Essex) and Roadworthy Suzuki (Bristol). The top honour of the night, the National Dealer of the Year trophy, went to Luscombe Suzuki Leeds, who stepped up on to the stage for the second time during the evening to claim the top prize. This marked the fourth time that the highly coveted retailer has won the accolade since taking on the Suzuki franchise in 2010. The final presentation was made to Norfolk's Fleming Brothers, who won the individual award for Outstanding Performance in Customer Service for the second year in a row.
The ceremony was completed with a total of 19 dealerships being commended for their long-standing relationship with Suzuki, with two franchises, Colin Appleyard in Keighley (West Yorkshire), and Gordon Motors Suzuki in Crieff (Perthshire), celebrating four decades with the brand. In addition, three showrooms have reached 30 years of long service, with five dealers across the UK celebrating 20 years of representing Suzuki.