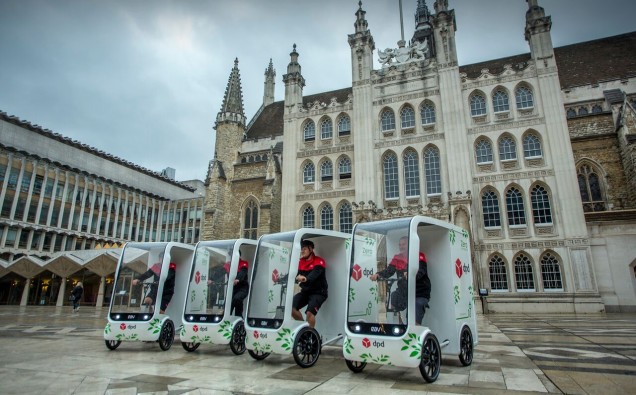 EAV worked alongside British logistics expert to create a unique new vehicle 
The UK's favourite parcel delivery company DPD has taken delivery of the first 10 EAV P1 electric assist cargo bikes – the result of a partnership between EAV and Birmingham-based DPDgroup. 
Five of the unique bio-mechanical electric-assist vehicles have now been deployed and are currently being tested on the streets of London, York and Newbury, while another other five are being shipped to DPD business units in Ireland, Spain, Germany, Portugal and France to help support British manufacturing and exporting abroad. 
The purpose-built, environmentally-focused quadracycle measures 2m long by 1m wide, weighs 120kg and can carry a 120kg payload. The 250 watt motor helps the rider accelerate to an initial 6kph (3.7 mph) on a boost/hill start assist button and then on to a maximum pedal-assisted 25 kph (15 mph). The P1 can cover a range of up to 60 miles in a day and over 100 parcel stops and then be recharged using a normal 13amp, 240v plug socket. Batteries can also be swapped to keep the P1 in constant operational use but are fully charged in under 6 hours. 
The bike's body is made from advanced composites which include the latest fully recyclable materials. For example; the fascia is made from a composite strengthened with hemp fibres bonded together with a resin based on the oil from cashew nut shells. 
The EAV P1 is being deployed as part of DPD's environmentally strategic aim to be the most responsible city centre delivery company in the UK. The plan, after the testing phase, is to significantly increase the deployment of P1s throughout the DPD network both in the UK and in Europe. 
Dwain McDonald, DPD's CEO commented, "The P1 is an absolutely amazing vehicle and we are immensely proud to be technical partners alongside EAV on this unique project. This is an entirely new type of vehicle and is designed specifically to meet the current challenges for delivery firms in the urban environment. The early trials show that the P1 is performing really well and clearly has potential to be more efficient for us than traditional vans in certain locations. It is highly manoeuvrable, can carry a good day's worth of parcels and can often get closer to delivery addresses than the vans. We know that the environment and climate change matter more than ever to our clients and the feedback we get when we share our EV vision with them is really positive." 
Adam Barmby, founder and technical director at EAV commented, "It has been fantastic to work alongside DPD and to see our vision for the P1 realised. It is classed as a cargo e-bike, but really, we started from scratch and reimagined an entirely new type of vehicle to operate within the parameters of today's urban delivery market. It is a modular design, so we can extend or shorten the chassis and change the cargo configuration to fit the brief. In addition to the design flexibility, there is also a whole new set of efficiencies that we are tapping into here. Realistically, the P1 can move as fast or faster than a traditional van through many cities because of the different routing it can take." 
Nigel Gordon-Stewart, Executive Chairman added, "Our deployment with DPD is clear evidence of the real potential of vehicles like the P1 to operate efficiently and environmentally in towns and cities worldwide. Its adaptability to offer multiple applications could enable a very significant reduction in both pollution and congestion. Our collaboration with DPD is the first step of many as EAV grows rapidly as a business. We're about to commence a round of Crowd Funding with Seedrs.com to allow members of the public to invest in a transport-based business determined to achieve cleaner air, congestion-free city centres and a more sustainable world."