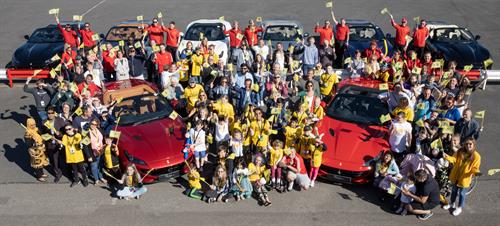 Ferrari North Europe was delighted to host the 10th annual charity event at Silverstone on Saturday 21 September 2019, hosting children from  Rays of Sunshine, who are an award-winning national charity that brightens the lives of seriously ill young people and their families by granting wishes and providing ongoing support in hospital and within the community. Ferrari North Europe also hosted ben, who are an independent charity and dedicated partner to the automotive industry, providing support for life for automotive people and their family dependents.
In 2010, Ferrari North Europe consolidated its Corporate and Social Responsibility programmes into a dedicated activity as part of the Ferrari Challenge calendar. Over the last ten years, 500 children have had an unforgettable experience, being driven round the Stowe circuit in a Ferrari California, or, more recently a Ferrari Portofino, by professional drivers. The children were also invited to explore the paddocks and garages for the Ferrari Challenge, and this year were also able to experience a grid walk prior to the final race of the season in the Ferrari Challenge UK.
Francesco Balli, Regional Manager for Ferrari North Europe, said: "It is an incredible honour and privilege to share the Ferrari brand with so many deserving children, and to be able to offer them such an unique and memorable experience. It is amazing to see the smiles of all the children and their positivity is inspiring. In the words of Enzo Ferrari, 'if you can dream it, you can do it.'"
The Ferrari North Europe Charity event was one of the main activities for Ferrari during the Ferrari Challenge UK race weekend at Silverstone. Details of next year's event will be announced in due course.