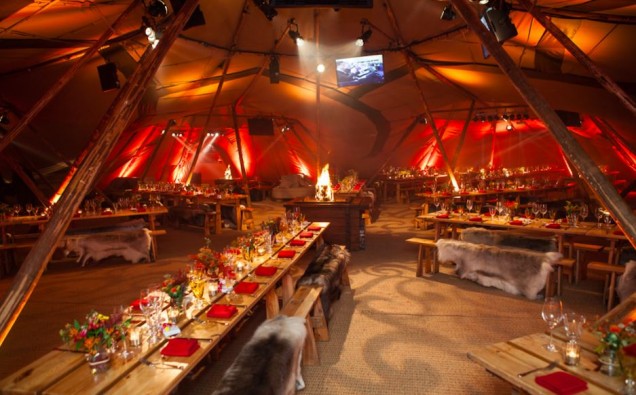 Restaurant reviewer and columnist Riccha Grrover visits the new haute pop-up restaurant on the London culinaryscape-CEDAR & SPRUCE BAR + KITCHEN BY ANI ARORA, nestled in the iconic HYDE PARK's  WINTER WONDERLAND. An exclusive feature for Asian World News.
This year's Hyde Park Winter Wonderland will see brilliant chef Ani Arora serve up some bistro-inspired festive fare at Cedar & Spruce Bar + Kitchen. Expect food that will dazzle the taste-buds from that very first mouthful!
Open for lunch, dinner and any time in- between from 29th November, this irresistible pop-up will be available to book – which is highly recommended – but will also take walk-ins.
Set across a trio of impressive tepees, complete with rustic décor, cosy fire pits and large communal tables, Cedar & Spruce Bar + Kitchen's warm and welcoming atmosphere will entice the crowds to take a break from the thrilling rides, ice skating, giant wheel and charming Christmas markets that together have seen Hyde Park Winter Wonderland become a landmark event for Londoners and visitors alike.
Ani's brand Hankies, with its shared plates inspired by Indian street food, continues to delight at its Shaftesbury Avenue and Marble Arch restaurants. For the Cedar & Spruce Bar + Kitchen concept, he has taken festive British favourites and given them a global twist.
Created using seasonal, responsibly sourced ingredients, dishes comprise starters such as cranberry & brie wonton with chilli cranberry jam as well as mains including turkey roulade with bacon & spinach stuffing & glazed root vegetables and steak pie, mash & classicmushroomgravy.Finishwith,whatelsebut,aChristmaspuddingslicewithbrandy sauce, or perhaps some raspberry & white chocolate cheesecake for the less traditional.
All dishes can be enjoyed à la carte or as a set offering with two courses.
The restaurant is also the ideal destination for families before and after pre-bookable attractions, such as the Magical Ice Kingdom's "A Christmas Carol" and spectacular shows, including Paddington on Ice, with a kid's menu available too.
For those with smaller appetites – or whojust wantto enjoy the bar area – Cedar & Spruce Bar + Kitchen also offers a bar snacks menu, with dazzling small plates presenting the perfect accompaniment to the venue's impressive collection of mulled wine and cider, craft beers, spirits, champagnes and prosecco. Choose from treats such as creamy cheese jalapeños, crispy prawns with wasabi drizzle & tomato salsa or venison & fig samosa served with apple chutney.
Hyde Park Winter Wonderland opened its doors on 21st November 2019 and will be on until 5th January 2020. People attending the park can enjoy a wide range of fun activities, as well as the Cedar & Spruce Bar + Kitchen which has run from 21st November as a bar, welcoming guests in with a toasty tipple or two, and with food service that's commences from 29th November.
About Anirudh Arora
Renowned culinary talent Ani Arora was born and brought up in Delhi. Following his graduation, he was headhunted by Oberoi Hotels, going on to work with them for five years, the youngest Indian chef in that huge empire. Travelling to London in 2003 in search of new challenges, he opened Moti Mahal in Covent Garden where he spent over a decade as head chef.
Ani then went on to open three London restaurants of his own: Nirvana Kitchen in Marylebone, Hankies Café in Shaftesbury Avenue and Hankies Marble Arch.
When he is not working in his kitchen, Ani travels the world catering for private individuals as well as prestigious events such as the Hero World Challenge at Albany, Bahamas (hosted by Tiger Woods) and the annual meeting of the World Economic Forum at Davos.
An avid researcher of India's ancient culinary traditions, Ani has also devoted his career to the gathering of long-forgotten rural recipes. The result was the best-selling book, Food of the Grand Trunk Road, written with Hardeep Singh Kohli.
About Peppermint Bars and Events
Peppermint Bars and Events who have teamed up with Arora provide high-performance bars and event solutions to the world's best entertainment businesses and consumer brands. The company is a specialist in its field – with over 16 years' experience, delivering everything from corporate events to large-scale outdoor events and festivals, including all 30 bars at Barclaycard British Summertime in Hyde Park since 2013.
Hyde Park Winter Wonderland
Regarded as one of the world's finest festive attractions, Hyde Park Winter Wonderland is the ultimate seasonal destination for friends and family alike. Situated in London's Hyde Park, in the heart of the capital it is a yuletide spectacular.
New festive attractions for 2019 include: The Magical Ice Kingdom Presents 'A Christmas Carol', PaddingtonTM On Ice , Mr. Men & Little Miss – The Show, the Season Ride Pass, the Giant Wheel (new 70m wheel) and the Winter Wonderland Comedy Club.Returning Favourites include the UK's largest outdoor Ice Rink, Zippos Christmas Circus, Cirque Berserk, Bar Ice, Bar Hütte Karaoke and Ice Sculpting Workshops.
Hyde Park Winter Wonderland offers incredible fun for all from roller coasters to fun houses, children's rides to high-octane thrill rides. It boasts an incredible array of cafés and bars, a gourmet street food area, a wealth of bratwurst stalls and traditional Germanfareat the Bavarian Village, veggie and vegan foods, festive treats such as churros, pretzels and crêpes and mulled wine aplenty.
On my visit, enjoyed trying out the recommended dishes of the set menu curated by the chef and savoured the delectable cuisine which can only get a 10/10 for flavour of the dishes across the menu, good portion size, promptness and attentiveness of service, cozy decor and attention to detail, music and ambience were just a few winners amongst many others!
So for this festive fix, head right over there! Highly Recommended!