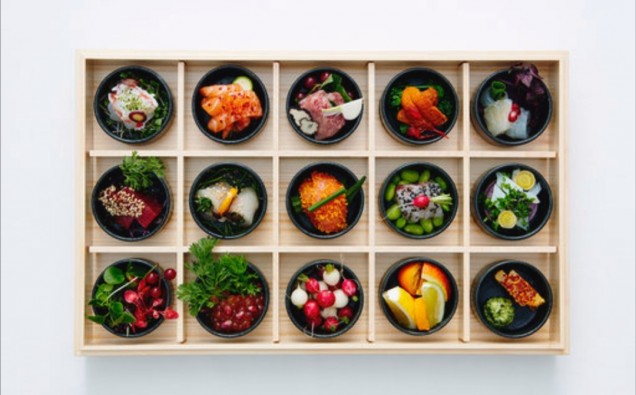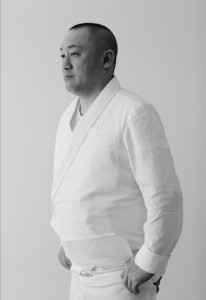 No stranger to London's restaurant scene, Akira Shimizu is recognised as one of Japan's best chefs. Having grown up in Japan, Chef Akira was drawn by local cuisine and its dynamic flavours. He began his culinary training at the age of fifteen and shortly afterwards moved to Tokyo where he joined the Chanto Restaurant Group and his skills caught the attention of the group's Vice President, Morio Inoue. Inoue established the Salt Group in 2002 and brought Chef Akira with him, opening their first restaurant together, Yakitori Akira.
Following this, Chef Akira has been heavily involved in launching many of the group's 45 restaurants, covering both casual dining and high-end cuisine. In 2016, he opened Salt Group's first London restaurant, Engawa at the Ham Yard Hotel in Soho, and in the summer of 2018, he launched AKIRA, his epynomous restaurant, at Japan House on High Street Kensington.
Showcasing his talents and passion for flavour, restaurant AKIRA offers an authentic Japanese dining experience based around Chef Akira's 'trinity of cooking' principles – food, tableware and presentation. Specialising in robatayaki and sushi, guests are immersed in Japanese-style omotenashi hospitality and are able to view his team of chefs at work in the open kitchen, creating a sense of theatre.
Bringing a unique modern Japanese dining experience to the capital is Akira at London's Japan House on Kensington High Street. Expect serious Japanese food, elegant presentation and a commitment to innovation, all served up in refined and minimalist interior.
Columnist Riccha Grrover In conversation with AKIRA SHIMIZU, EXECUTIVE CHEF AT AKIRA 
RG- What does the brand Akira stand for in London? How is it unique and different from other Japanese restaurants and where does it fit in the concept of Japan house?
AS- The concept behind Akira Restaurant is a Japanese Izakaya with a menu designed specifically for our guests in London. Each dish is made using ingredients sourced from Japan and our tableware specially created in collaboration with Japanese designers. This attention to detail is what sets us apart from other Japanese restaurants in London. As part of Japan House, the restaurant interiors also help to create an atmosphere reminiscent of dining in Japan; the entire experience has to be as authentic as possible.
RG- Is your menu a set one or do you have a la carte too? Also is it a fixed menu or do you have seasonal specials and varieties too? Do you cater for varying dietary requirements? Where does the menu take its inspiration from? 
AS- We serve set menus for both lunch and dinner alongside a variety of à la carte dishes, which can cater for a range of dietary requirements. In addition to seasonal changes we revise the set menus once a month – I try to develop highly creative menus by focusing on the seasonality of ingredients for the best possible dishes.
RG-What kind of a dining experience can a first time guest expect when planning a meal at Akira?
AS-'Omotenashi', which means hospitality in Japanese, is a huge part of the experience at Akira. Guests are greeted as they enter the restaurant and we pride ourselves on providing the best service we can, alongside exquisite food and drinks reflecting Japan's diverse cuisine.
RG- Tell us about your decor, music and creatives of the restaurant – where does the ambience take its inspiration from and what kind of vibe does it signify?
AS- We have balanced our restaurant ambience with Japan House's interior, which is based on a simple white and black design. The restaurant's minimal and modern decor, designed by Katayama Masamichi of Wonderwall reflects the Japanese philosophy of place and home – doma – a social space where family, friends and neighbours gather.
RG- Tell us more about your drinks offerings in the menu? 
AS- The drinks menu offers cocktails featuring Japanese ingredients including rare sake, yuzu an extensive wine list, a range of fine single-malt and blended Japanese whiskies and Japanese beers. There are also twenty-eight sakes, and for these, we present guests with the choice of thirty-six exquisite cups to drink from.
RG- How would you describe the meal experience in five adjectives? And what are the top three must try dishes you would recommend a first time diner? 
AS-Elegant, innovative, refined, authentic and diverse.
The sashimi box from our set menu is our signature dish so I always recommend this to guests. The Wagyu Sumiyaki is pure luxury and hard to beat, but for something a little different try the sea urchin, salmon and tuna egg crepe with truffle cream sauce.
RG- Did you always want to be a chef? What piece of advice and encouragement would you give budding chefs?
AS- As I look after many restaurants in both London and Japan, I tend to think of myself as a managing director rather than a just a chef nowadays. To run a restaurant, you need to know every aspect of the business, with a whole host of skills from customer service, managing suppliers and budgets to designing the restaurant interiors and kitchens.
When I have witnessed issues with chefs in the past, I think it's due to lack of information, and knowledge. There is no stupid question in the kitchen – it is far better to have a willingness to learn, great problem-solving skills and creativity to succeed.
On my visit, we enjoyed trying out the recommended dishes curated by the chef and savoured the delectable cuisine which can only get a 10/10 for flavour of the dishes across the menu, promptness and attentiveness of service, cozy decor and attention to detail, music and ambience were just a few winners amongst many others! Highly Recommended! 
A Japanese dining experience like no other – Akira is the exquisite restaurant from acclaimed Executive Chef Akira Shimizu showcasing serious Japanese food, elegant presentation and commitment to innovation all served up in refined and minimalist interior. Having just celebrated their first anniversary, Akira continues to create outstanding Japanese dishes with his signature twists, served with serious attention to detail and only the best Japanese hospitality, to showcase a one-of-a-kind Japanese dining experience in London.
Guests are immersed in authentic omotenashi hospitality as chefs prepare dishes reflecting Japan's diverse cuisine. Seasonal ingredients are used over roaring robata flames alongside a wide selection of skilfully sliced sashimi and carefully crafted sushi assortments, abundant in colours, textures and flavours. The dining experience is further enhanced with exquisite, bespoke ceramics and glassware, personally designed by Akira and created in collaboration with artisan producers from his home country.
The restaurant's minimal and modern decor is a visual treat, designed by Katayama Masamichi of Wonderwall reflects the Japanese philosophy of place and home – doma – a social space where family, friends and neighbours gather. Wooden partitions, a black slatted ceiling and polished concrete floors echo the precision of Akira's dishes. Sit at the open kitchen counter for a fascinating insight into how the chefs work or gather around handcrafted tables and chairs designed by renowned woodworker George Nakashima.
The menu features only the highest quality ingredients and the presentation is second to none with dishes presented on beautiful ceramic plates and bowls, atop giant volcanic rocks and in 14-piece bento boxes featuring jewel-like individual hand-painted pots and bowls. The combination of traditional Japanese cuisine with modern European elements, such as the Akira fish and chips with special tartar sauce and the crab and cream croquettes, showcases the innovation of the kitchen. Also on offer is imaginative sushi specialities, robata charcoal grills, such the Akira kushiyaki skewers made from umami-rich Waygu beef, pork, chicken, seafood and vegetables, and a selection of carefully crafted omakase menus.
Japan House is the cultural home of Japan in London presenting the very best of Japanese art, design, gastronomy, innovation, and technology. Part of a global initiative led by the Japanese Ministry of Foreign Affairs, there are two other Japan Houses in Los Angeles and São Paulo.
Sent from my iPhone