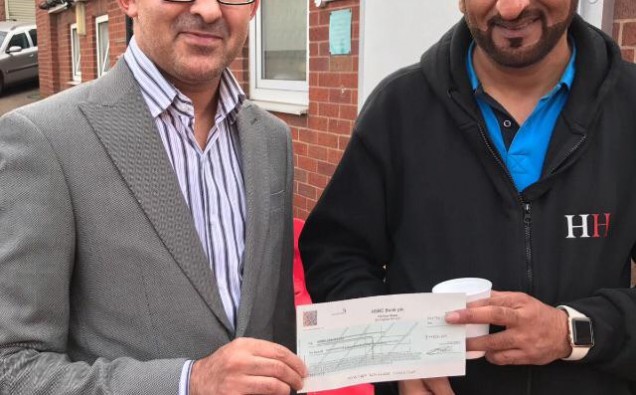 As a current Public Governor for Birmingham and Solihull NHS Mental Health Foundation Trust, Khalid Ali has been tirelessly serving the communities that he represents for over a decade now.
He has represented Mental Health for over 2 years on the Governors Policy Board, which is now known as the Governors Advisory Committee.
Over the years he has supported his trust in various projects. He has also worked alongside the Homeless One charity in Digbeth, by proving them with continuous donations in order for them to carry out their important work.
As well as this, Khalid has been giving up his own free time in order to volunteer alongside Birmingham city's out-reach team, and experience the homeless issue first hand.
He has spoken to countless rough sleepers on the streets, in a bid to understand exactly who these people are and the hardships they have undergone to face their current situations. As a result, Khalid has begun to develop an awareness on how the NHS Foundation Trust as an organisation can aid the homeless, and what we as ordinary people can also do to help out.
Formerly known as Homeless Heroes, the Homeless One charity work regularly to provide hot food to those without a permanent address. On most nights, many rough sleepers in the city attend the organisation's base camps for a sheltered hot meal and drink.
Khalid affirms that homelessness in Birmingham alone as well as across England is on the rise, but that there is more than one specific reason why this figure seems to be increasing.  He believes that every rough sleeper has a different situation; whilst some may have found themselves unable to pay their rent and without a place to live, others may have been removed from their place of work or family home.
Nevertheless, Khalid encourages people from all over the local community to donate to a charity to help the homeless, and even to volunteer locally in order to provide aid for the city's rough sleepers themselves.
He has decided to dedicate his life to improving Mental Health services locally and nationally and is now looking into setting up an organisation that will further raise awareness of mental health services and support those who need help.
Khalid has been a finalist for the Midlands Business Community & Charity Awards in 2017, and was nominated again in 2018. He has also been shortlisted at the Thrive Mental Health Commission Awards for the 'Mental Health Star Award' in Birmingham this year.
We asked Khalid Ali a few questions about how and why he decided to help the homeless community, and what he plans to do as a governor to tackle the homelessness issue within Birmingham.
How did you get into working with the NHS Mental Health Foundation Trust?
I've been with the Trust for 12 years now. I first started by working with Birmingham Children's Hospital, where somebody briefed me about mental health work, and how they could use my help and support in raising awareness about the issue. I stood as a governor for Birmingham and Solihull Mental Health Foundation Trust, as the organisation were formerly working as a PCG and needed governors to come on board. At the time I thought my role would only be temporary, but as I began to gain a greater understanding of my duties, I became more interested in mental health work. After that I was re-elected and it just grew from there.
Alongside representing the NHS, what made you want to help the homeless and work for them?
As a Foundation Trust, we know how important it is to help the homeless. Whenever you see a homeless person, the first thing you would ask is about the state of their mental health. As an organisation we already work with the charity St. Basil's quite closely, by helping them to reach out to people who are on the streets and assess their mental health. I've also been assisting the Homeless One charity in Digbeth with fundraising and volunteering as well. I've been passionate about mental health for many years now; especially with helping people to avoid suicide and get back on track to living a healthy and normal life.
What kind of misconceptions about homeless people would you liked cleared up, so that the public gain a better understanding about homelessness?
That they're just people like us. They're humans at the end of the day. Every human being should be treated in the same way, and not be judged or stereotyped because they're without a home; I think it's completely wrong. Not everyone is on drugs or an alcoholic. These are the things we're quick to assume, but judging others will actually only make the situation worse. As a society we're quick to blame everyone but ourselves, and we often walk past the homeless with ignorance and carry on with our own daily duties. However, these people are individuals too, they also have the right to eat, live and breathe.
What new projects do you want to undertake to help the homeless in Birmingham?
My plan as an individual is to continue working with mental health services and reaching out to the organisations that are helping the homeless, by giving them all the guidance and support I can offer. I want to make sure the people who need help get it, and that the NHS as an organisation are working with the key stakeholders such as the council and other local charities in order to eradicate homelessness.
By Manisha Bhanot.