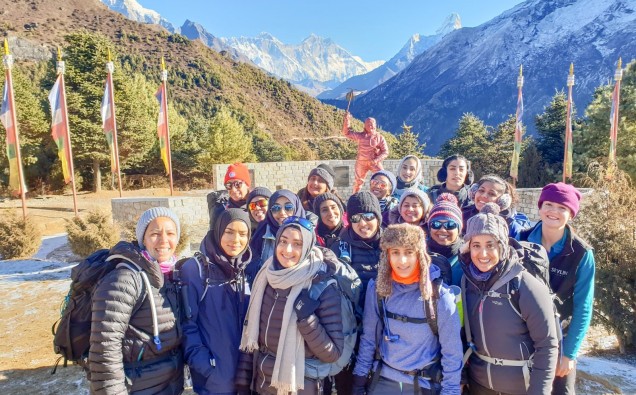 18 British Muslim women from all walks of life have returned to the UK on December 27th after taking part in one of the toughest challenges of their lives. The group are currently climbing towards Mount Everest's basecamp in an attempt to raise over £250,000 for international humanitarian charity, Penny Appeal.
The full team consists of 34 brave volunteers, who are taking part in the 12 day trek, climbing 18,000ft to raise money to help the Rohingya refugees who continue with their struggle for survival within the cramped Bangladeshi refugee camps.
Taking part in the trek is Marzana Rahman, an abuse survivor and Domestic Violence and Women's Rights activist. Marzana says, "I decided to climb Mount Everest to help Rohingya women who have suffered so much, to help provide them with the basic necessities, as well as to create women friendly spaces, where they will be supported emotionally. Every time I come across a women's rights organisation, I see the world changing for the better. But as powerful as these movements are, my heart breaks a little because I am faced with the harsh realities that my sisters are facing."
Following months of preparation, hikes, gym workouts, and studying, efforts have now turning towards fundraising. Over £230,000 has already been reached, and the team remain hopeful that they will raise even more in their commitment to helping the Rohingya refugees.
Team leader and Penny Appeal's Head of Challenges says, "Everest is the highest mountain in the world, and to trek to the base camp is a massive challenge. We're all itching to see whether we can do it, and whether we can reach our goal to raise a quarter of a million pounds to help the Rohingya people who have been through so much. We want to help them to thrive, not just survive."
For further info, interviews or images of the climb, please contact Nazira on 07946 381 453 or email nazirabemath@gmail.com